The Better Half Book Signing
The Better Half Book Signing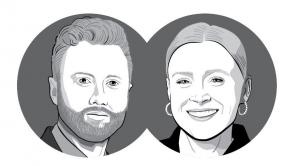 Join us for a book signing of the new book "The Better Half: Nebraska's Hidden Treasures" by Sarah Baker Hansen and Mathew Hansen. The signing will begin at 5 p.m. at the National Willa Cather Center followed by a reception around 6 p.m. at On the Brix.
Omaha World-Herald food critic Sarah Baker Hansen grew up in suburban Omaha. Husband Matthew, World-Herald columnist, came from Red Cloud, population 1,000. In their new book, "The Better Half," they together explore the state from border to border.
The book, available now, is a compilation of two dozen columns and restaurant stories, as well as dozens of other details on things to do, see, eat and drink in Nebraska.
About the Book:
"The Better Half" explores Nebraska border-to-border through its food and people--including a section focusing on Red Cloud. The book is a compilation of two dozen columns and restaurant stories, as well as dozens of other details on things to do, see, eat and drink in Nebraska.

Highlights include: A story about an Indian-American couple with the audacity and the requisite amount of screws loose to open an Indian restaurant inside a burnt-out truck stop at the Overton Interstate exit; the story of the High Plains Homestead, a place without TV, radio or cell phone reception that's also the closest place the Hansens have found to heaven in Nebraska, a review of The Speakeasy in Sacremento (near Holdrege), an amazing restaurant in the middle of nowhere, and much much more. The book has several pictures of Red Cloud and includes a section focusing on the progress being made in the community over the last decade as well as the Grand Opening of the National Willa Cather Center.

"This book is a project Matthew and I have wanted to work on for more than a decade," Baker Hansen said. "We knew Nebraska had great untold stories, and we wanted to tell them. The book is the result of that goal."

Baker Hansen has been the World-Herald's food critic for six years. She started the periodic Food Prowl series, wherein she creates teams of tasters and finds favorites in a number of categories. The series has resulted in close to 40 "best of Omaha" winners, including Reuben, fried chicken, ice cream and more. "The Better Half" is her second book. She also wrote "The Insider's Guide to Omaha and Lincoln," part of a series of internationally focused travel books. She won a 2015 Great Plains Journalism Award for best review.

Hansen has worked in newspapers for more than a decade, starting at the Lincoln Journal Star and moving to the World-Herald in 2006. Previously he covered the military, writing extensively about Nebraska veterans living with PTSD. During his career, Hansen has won several national journalism awards, including a Society of Professional Journalists Award in 2009, honors from the National Headliner Contest in 2013 and 2014 and a 2017 Inland Press Journalism Award in profile writing for his story on Richard Hart, which can be found in this book. He was named the 2015 Great Plains Writer of the Year.

"The Better Half" was prepared with support from the Nebraska Community Foundation and published by the Omaha World-Herald.

For more information, visit omaha.com/betterhalf