Dedication of the National Willa Cather Center
Dedication of the National Willa Cather Center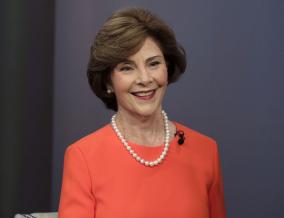 The National Willa Cather Center
We are delighted to welcome Mrs. Laura Bush as a guest speaker for the National Willa Cather Center's dedication. A former teacher and librarian, Mrs. Bush has dedicated herself to advancing education and promoting the well-being of women and families worldwide. She has advocated for the importance of literacy and education to advance opportunity for America's young people and foster healthy families and communities. Mrs. Bush founded the National Book Festival to introduce tens of thousands of American's to their favorite authors each year. She also developed "The White House Salute to American Authors" series to honor some of America's most significant authors.
We will also unveil our new exhibit, American Bittersweet: The Life and Writing of Willa Cather, and host complimentary tours of the beautifully restored Moon Block, including our state-of-the-art archive and research area, classroom, green room, and apartments. This Nebraska 150 Signature event will conclude with a champagne reception to recognize the hundreds of generous donors who made this project possible.
Ticketed events:
1:30 to 2:30 p.m. - Dedication of the National Willa Cather Center and remarks from Mrs. Laura Bush. (Seating is extremely limited. Tickets are reserved for our campaign donors or Spring Conference attendees and are not available à la carte.) Tickets for Mrs. Bush's speech are $100.
5:00 to 8:00 p.m. - Celebratory champagne reception
Free events:
2:30 to 4:30 p.m. - Open house and tours of the National Willa Cather Center
Ticket Information
Please note: due to extremely limited seating, tickets are currently available only to attendees of the Spring Conference and donors to the campaign for the National Willa Cather Center. If you'd like to attend the Spring Conference, click here to register. If you are a donor to the campaign, please contact Marianne Reynolds at 402-746-2653 to reserve your ticket(s).