Mahenwahdose
Mahenwahdose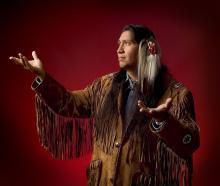 Mahenwahdose - Saturday, April 13 at 7:30 p.m.
Will Hill is a full-blooded Native American Indian who provides arts and education to schools and communities across the state and nation. He was reared as a traditional storyteller of the Nogonugojeeh (storytelling) society of the Muscogean people. Hill has the distinction of being the first American Indian to perform at the new National Museum of the American Indian, a component of the Smithsonian Institution in Washington, D.C. He has been a featured artist for Walt Disney World and numerous national storytelling conferences and festivals around the country. Each folklore performance he gives helps to keep alive the stories of his people.
Tickets are $10 in advance, $15 on the day of the show
Contact the Willa Cather Foundation at 402-746-4065 for more information.