OTB Fall Boutique Extravaganza
OTB Fall Boutique Extravaganza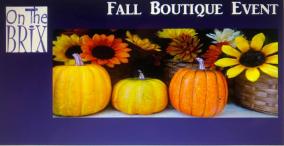 Our annual Fall Shopping Extravaganza is happening, pandemic or not. If you do not feel safe or well and are concerned about the conditions, please use your better judgment and stay home. There will be others in the future to attend. We leave wearing masks up to your discretion. The event will be like our other boutique days, in that there will be several boutiques brining their wears, goods and sales to OTB to sale to our community and surrounding friends. We will not have a Fall Runway show this year but shop till your hearts content. Our change this year is that we have invited all our neighbors in Red Cloud to participate. So with that said, Village Pharmacy along with other shops and restaurants in town will be participating with sales, sidewalk sales and much to do. Utilize this time to Christmas shop or be selfish and shop for yourself. But either way, bring your posse, a friend, a sister, your mom and lets make an amazing day of fun out of it.

OTB will have their own sales and drink specials.

Stay focused and tuned to our event for the announcements of confirmed boutiques attending and sales from each boutique including OTB.