Street Car Days
Street Car Days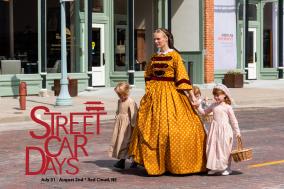 July 31, 2020

to

August 2, 2020
Red Cloud's Annual Celebration! Stay tuned for more details but you can count on the following events:
UPDATE: 6/22/20:
Because of the recent changes to the Directed Health Measure, the odds that we do something for Street Car Days have increased. While we still do not know if that can include a parade or beer garden and will have to await the next DHM announcement from the Governor's Office, we are holding out hope that those prohibitions might be removed. Many of our events can likely go on as usual, however, and we will be contacting South Heartland Health District to see what we can do.
We will strive to have the event, but it may be different, more geared towards locals, and perhaps more subdued than it has been in previous years.
Given the rapidly changing nature of the situation, we must advise you to stay tuned to this page for updates as everything remains uncertain.
Next week we will also announce a COVID-19 Relief Chamber Bucks program to help spread more money in the community and help out businesses that have undoubtedly been affected by the cancellation of other major community events in this crazy year.
* Exhibits at the National Willa Cather Center * Exhibits at the Webster County Historical Museum * 5K the Warrior Way hosted by the Red Cloud Community Foundation Fund (July 31st, ~7pm) * Parade (Aug 1st, ~1030am) * Car Show (Aug 1st) * Corhnole Tournament (July 31st) * Mud Drags (Aug. 2nd) * Beer Garden and Musical Performances (July 31st-Aug. 1st) * Lions Club Fly-In Pancake Breakfast (Aug. 2nd) * Open Golf at Red Cloud Golf Course