Virtual Author Series: Matt Mason & Nebraska's Youth Poet Laureate
Virtual Author Series: Matt Mason & Nebraska's Youth Poet Laureate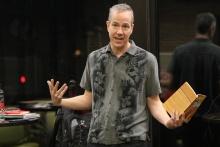 Virtual (hosted by the National Willa Cather Center)
Kick off the new school year with what is sure to be a lively poetry reading with Nebraska Poet Laureate Matt Mason. Mason will share poetry from his most recent collection, At the Corner of Fantasy and Main: Disneyland, Midlife, and Churros, and he will also share the virtual stage with the 2022 Nebraska Youth Poet Laureate! Stay tuned for an announcement about this year's youth poet laureate winner. Register for the event here.
This author series event is made possible by generous donor support as well as the National Endowment for the Humanities (NEH) as part of the American Rescue Plan (ARP) Act of 2021. NEH is committed to Sustaining the Humanities through the American Rescue Plan (SHARP).
About the Author
Matt Mason is the Nebraska State Poet and Executive Director of the Nebraska Writers Collective. Through the United States State Department, he has run workshops in Botswana, Romania, Nepal, and Belarus. Mason is the recipient of a Pushcart Prize and his work can be found in The New York Times, on NPR's Morning Edition, and in American Life in Poetry. Mason's third book, I Have a Poem the Size of the Moon, was just released by Stephen F. Austin University Press. Matt is based out of Omaha with his wife, the poet Sarah McKinstry-Brown, and daughters Sophia and Lucia.