Virtual Author Series: Pam Houston
Virtual Author Series: Pam Houston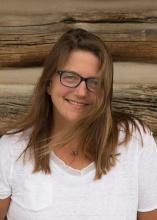 Virtual (hosted by the National Willa Cather Center)
Transport yourself to the Colorado Rockies, Nebraska prairie, and beyond during our conversation with author Pam Houston! Join us as Houston shares excerpts from her book, Deep Creek: Finding Hope in the High Country, and discusses the pleasures of place-based writing and her connections to Willa Cather, both as a writing professor and a fan. Register for the event here.
This author series event is made possible by generous donor support as well as the National Endowment for the Humanities (NEH) as part of the American Rescue Plan (ARP) Act of 2021. NEH is committed to Sustaining the Humanities through the American Rescue Plan (SHARP).

About the Author
Pam Houston is the author of the memoir, Deep Creek: Finding Hope In The High Country, which won the 2019 Colorado Book Award, the High Plains Book Award, and the Reading The West Advocacy Award. More recently, she published Air Mail: Letters of Politics, Pandemics, and Place, co-authored with Amy Irvine.
She is also the author of Cowboys Are My Weakness, Contents May Have Shifted, and four other books of fiction and nonfiction, all published by W.W. Norton. She lives at 9,000 feet above sea level on a 120-acre homestead near the headwaters of the Rio Grande and teaches creative writing at University of California Davis and at the Institute of American Indian Arts. She is cofounder and creative director of the literary nonprofit Writing by Writers and fiction editor at the environmental arts journal Terrain.org. She raises Icelandic sheep and Irish wolfhounds and is a fierce advocate for the Earth.