20 years ago, Red Cloud, Nebraska seemed all but dead. Now the hometown of Willa Cather is changing its fate
20 years ago, Red Cloud, Nebraska seemed all but dead. Now the hometown of Willa Cather is changing its fate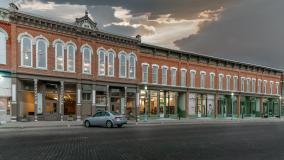 Article written by Matthew Hansen of the Omaha World Herald
RED CLOUD, Neb. — As a first lady speaks to a packed house in my hometown, as she praises Red Cloud's most famous resident and then snips a ribbon officially opening the biggest thing to happen here in my lifetime, my mind keeps drifting from this surreal present to a fading teenage memory.
It was 1998, the summer I graduated from Red Cloud High School. On sweltering summer nights, my friends and I met at Del's gas station. We bought bags of Doritos, stood self-consciously in the weedy parking lot and gossiped about high school romance.
Then, when the conversation faded into silence, we climbed into our cars and drove up and down the deserted Main Street, up and down. Ten times. Twenty times. Thirty. We rolled slowly past the old South Bar and the closed-down clothing store and the boarded-up buildings. We cruised because there was nothing else to do. We drove in circles because we believed that this worn path was all Red Cloud had to offer, all it was and would ever be...