Tourism & Commerce Report
Tourism & Commerce Report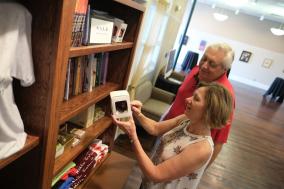 This editorial originally appeared in the Wednesday, October 30th edition of the Red Cloud Chief
by Jarrod McCartney October 31st, 2019 Red Cloud Tourism & Commerce
Believe it or not, it has now been a little over 4 years since I was hired to be the Heritage Tourism Development Director. Since the summer of 2015 my daughter has grown from a 2 year old, to a just turned 7 year old flourishing in Mrs. Brown's 1st grade class. My wife Rachel proves on a daily basis that the best choice the Heritage Tourism Advisory made in hiring me was in bringing someone with her talents and insights to town. Since 2015 we've also seen the completion of The National Willa Cather Center, The Valley Child Development Center and new businesses like On the Brix, Fat Fox's, and Hometown Market. We have new lodging options like The M Guest House, Villa Willa, and the George Cather Home. We have people living in downtown Red Cloud and others with plans to rehabilitate the upper levels of downtown buildings. We have more than doubled the Red Cloud Community Foundation Fund's endowed accounts to over $700,000, ensuring there will be money to support projects in Red Cloud forever. We have buzz from entrepreneurs interested in downtown spaces. We are also on the verge of soliciting investors for the Hotel Garber project. We have raised a significant amount of funds and expect to see activity at the Hotel Garber site soon. We also expect to see work happening on the building across the street to the north in the coming weeks and months.
Tourism & Commerce is having a clear and distinct impact on the local economy, generating both enthusiasm and dollars. At a time when City sales tax revenue is stagnant and commodity markets are sagging, lodging tax revenue in Webster County continues to increase, with an eye-opening 39% gain versus 2016 and 70% since 2011. According to data from Dean Runyan & Associates, Webster County generated $4.6 million in visitor spending, $635K in earnings, and $422K in tax revenue for the state in 2018. Compare that to our neighbors in Franklin County who, according to the same report, generated $1.1 million in visitor spending. Clay County generated $2.3 million while Nuckolls generated $3.7 million. Webster County is outperforming all of those counties despite having less overnight stays, with both Clay and Nuckolls each having around 10K more overnight stays in 2018. What that tells me is that we have special tourism assets in Red Cloud that generate revenue on their own, but that we lack the right type of lodging and things to do to keep more people overnight. It's also signaling that as a percentage of total economic impact, Webster County is one of the top ranking tourism counties in the state.
UNL data tells us Webster County experiences close to $1.2 million in economic impact connected to guests who stay overnight. The gap between $1.2 and $4.6 million is partly made up of money other Nebraska communities are making off of our tourists. The discrepancy is also due to Dean Runyan's data accounting for "day trippers" who visit but then stay the night in one of the Tri-Cities or in the Omaha-Lincoln metro. We need to do a better job of keeping their money in Webster County and the Hotel Garber will help us do that. Using UNL's data, overnight guests staying at the Hotel Garber will likely triple economic impact related to tourism in Webster County by year one and it is projected to create $6.7 million in economic impact by year 10—an 82% increase. Dean Runyan's data suggests that number will be even higher.
I am excited about working with the City, the Chamber, the Cather Foundation, and others to continue to propel the vision that the Community Foundation first laid out in 2012. I believe that downtown revitalization is the key to a sustainable future in Red Cloud an am eager to keep working towards creating a brighter future for our hometown.