Wolfe's hometown celebrates his legacy
Wolfe's hometown celebrates his legacy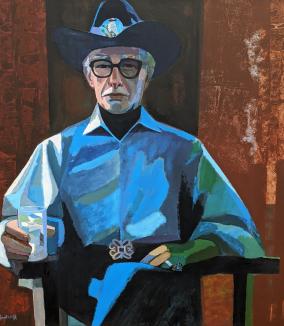 from Susan Danehey at the Hastings Tribune:
RED CLOUD — Lisa Wolfe, the only surviving daughter of the late Lynn Wolfe, a self-described watercolorist, sculptor and stained-glass artist, is pleased to be able to donate his life's works for the benefit of the National Willa Cather Center here.
Ashley Olson, executive director of the Willa Cather Foundation and National Willa Cather Foundation, said the gift of Wolfe's art will be of enduring benefit to the organization that memorializes another child of Red Cloud who went on to a career in art: Cather, the Pulitzer Prize-winning author who is known around the world.
"He is a prolific artist, we feel very fortunate to have these works on display permanently," Olson said Saturday during the reception for a gallery exhibition of Wolfe's work at the Red Cloud Opera House.