Youth Community Visioning Sessions Held at RCHS
Youth Community Visioning Sessions Held at RCHS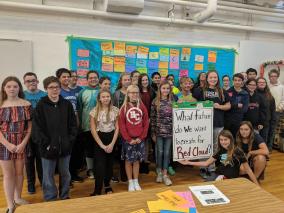 Youth Community Visioning Sessions Held at RCHS
The Red Cloud Community Foundation Fund (RCCFF) hosted two visioning sessions at Red Cloud High School on Tuesday, October 8th. The sessions gave Red Cloud junior and senior high school students the opportunity to talk about the future they would want to create for Red Cloud and to express their opinions on ways to improve the quality of life in Red Cloud. During the session, junior high students were asked to think about their lives in 2039 and high school students were asked to think of things that made them proud to be from Red Cloud. In both sessions, students were asked "What future do we want to create for Red Cloud?" Students had a broad range of interests, but common themes were the creation of a movie theatre, addressing housing issues, addressing issues with local streets, improving the school building, and adding more retail and restaurant options.
The sessions were organized by Kim Ely, 7-12 Science teacher at RCHS and member of RCCFF, along with Dena Beck from the Nebraska Community Foundation and Daniel Bennett from Civic Nebraska. RCCFF Chair Ashley Olson and member Jarrod McCartney also helped facilitate the session. Ely is organizing a youth version of RCCFF that will pick up where this session left off and advocate for a youth perspective in community development efforts. The RCCFF Youth group will also learn more about fundraising and building a culture of philanthropy and will, eventually, be able to grant money to projects they wish to support.
The youth visioning session was the kickoff event for a larger Community Visioning session that will be held at the Community Center during the evening of Tuesday, November 12th. Every member of the community is invited to participate in the event and let their voices be heard about what the community needs. What RCCFF learns at the event will help drive the focus of their grantmaking decisions in future years, in addition to ongoing support of The Valley Child Development Center and Heritage Tourism Development. Food will be served and childcare will likely be available. The full results of the Youth Visioning sessions will be shared at the November 12th event as well.
Since its inception in 1995, the Red Cloud Community Foundation Fund has become a strategic grant maker and a significant leader in local economic development strategies. By investing in programs that are helping to make Red Cloud a stronger and more vibrant community, the RCCFF has the unique ability to facilitate local economic growth, leadership, and community-building. A tax-deductible annual membership in the Red Cloud Community Foundation Fund is $100. Donations may be mailed to RCCFF, 873 Road K, Red Cloud, NE 68970.