Potter Block Hotel, Pt 2
Potter Block Hotel, Pt 2
Potter Block is the Best Choice for the Future of Downtown Red Cloud
by Jarrod McCartney, Heritage Tourism Development Director
In September, I wrote about the Heritage Tourism Advisory Committee's (HTAC) selection of the Potter Block (aka Brenda's Shoppe) as the site for a new hotel. If you've been downtown recently, you will have noticed that we have begun abatement work and hope to begin demolition work soon. Understandably, many of you are probably wondering why we picked that building over other options. While there are a number of practical reasons motivating our decision, the most compelling is that the renovation and adaptive reuse of the Potter Block into a 30 room boutique hotel is a socially responsible community development project. Not only will the hotel spur economic development in the community, it will help preserve the unique character of downtown Red Cloud.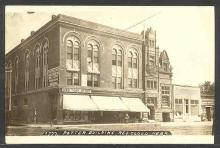 Before I dive too deeply into the details of why we love the Potter Block so much, please let me explain some of the background that helped us reach this decision. We set out in late 2015 to build a chain hotel (Super 8, Cobblestone, etc). We even had a feasibility study conducted by a group affiliated with Cobblestone and were about to pull the trigger on putting together a proposal to build one when we had a change of heart. One of our project donors had always had his heart set on building downtown, but we were wary of the costs of such a project. Nevertheless, we felt we had to at least explore our options downtown since we could save a vacant building and provide lodging that fit the town and the demands of tourists. In late 2016, we had an architectural study completed on both the McFarland and Potter Block. Both of these studies indicated that renovating would be more expensive than building a modern chain hotel, but not by much. Either model would require a lot of time, effort, and money. We figured that if we're going to spend the time and money to do this, we shouldn't settle for the cheapest model, that we should do it right and build something special and unique that will be an attraction in and of itself. The hotel will be an experience you can't get literally anywhere else, which is why people bother coming to visit Red Cloud and the Cather sites in the first place.
Our analysis of the costs and benefits of building a chain hotel or a downtown hotel concluded that while renovating was more pricy, we could also retain local control and management of the property if we pursued the project ourselves. This would help us cut out franchise fees, develop our own management model that we believe will actually save on costs and create quality employment opportunities associated with the hotel. It will also allow us to explore options with adjoined dining or other experiences that the corporate model simply would not provide any flexibility on. By not choosing a chain hotel, we will make this truly a Red Cloud business. Later, discussions with other communities revealed that working with a chain hotel was not the greatest experience for locals and we also learned that other communities have built similar properties on their own at less cost and with greater occupancy rates. We also discovered places like the Arrow Hotel in Broken Bow and saw that a downtown hotel could work in a rural place.
Due to its prominent location at the intersections of US Hwy 281 and US Hwy 136, letting the Potter Block rot, demolishing it, leaving a vacant lot, or replacing it with a cheap metal building would be an outright shame. The intersection has great visibility and this building is currently one of the biggest eyesores downtown. The building needs to be saved not only to protect the continuity of our historic main street, but to measurably enhance it. We also plan on adding a 3rd floor to the building, replacing a floor that was lost to fire in the 1950s, which will add to the look and feel of downtown and serve as a nice complement to work that has been completed down the block by the Willa Cather Foundation. The possibility exists that we will be able to incorporate the Garber Bank Building next door in some way—whether that happens or not the new hotel will help draw more attention to that unique feature of the town and help make sure that landmark remains in good shape. Here are some additional reasons we selected the Potter Block:
The Red Cloud Community Foundation Fund already has an ownership arrangement, which will help us avoid any land or building acquisition costs.
By rebuilding the original 3rd floor, we can supply more rooms than if we had purchased and renovated the McFarland Hotel.
The McFarland Hotel is more likely to be renovated by a small business than the Potter Block and is also in a less visible location.
Parking is ample on the street and in an adjacent City-owned lot. Curbside parking, loading zones, and valet parking should ensure ease of access for all visitors. Additional parking is plentiful within a short walking distance.
Market research tells us that tourists are looking for unique and authentic experiences. Creating a hotel in an historic downtown building that is within walking distance of area attractions, shops, and restaurants will greatly enhance the tourist experience. It also increases the odds that these visitors will shop at locally owned businesses.
Our research shows that this hotel will most likely pick up guests who are opting to stay in Hastings or Grand Island at present, meaning it will have at worst a modest effect on existing lodging.
Building downtown means that the City gets to reap economic benefits immediately in the form of sales tax or in the future via occupancy and City lodging taxes should those taxes be approved.
Tiered pricing models will ensure that the hotel will appeal to a variety of guests.
Please contact myself or another member of HTAC (Justin Armstrong, Dennis Hansen, Gene Horne, Ashley Olson, Liz Rasser, and Jay Yost) if you are interested in becoming an investor or simply learning more about the project. Next month, I will have another exciting announcement from the Red Cloud Community Foundation Fund and provide more detail about potential economic impact from the hotel project.