Business and Job Opportunities
Business and Job Opportunities
Jobs within a 75 mile radius
Featured Jobs and Business Opportunities
JANUARY 23, 2023
COOPERATIVE PRODUCERS, INC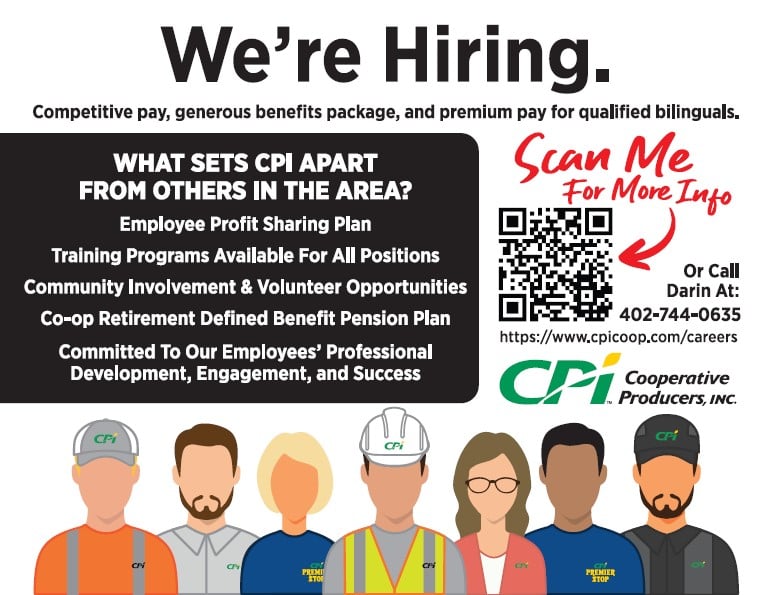 UNITED STATES POST OFFICE
Contact Postmaster Jacqueline Todd at jacqueline.todd@usps.gov | (402) 746-2800 for more information
Rural Associate Carrier
This is a non-career position, which may lead to a career position. RCAs are immediately eligible to enroll in the USPS Health Benefits Plan with a Postal Service premium contribution. After completing one year without a break in service of more than 5 days, RCAs may also be eligible for: health insurance under the Federal Employees Health Benefits Program (FEHB); dental and vision insurance through the Federal Employees Dental and Vision Insurance Program (FEDVIP); flexible spending accounts program through FSAFEDS and long term care insurance through the Federal Long Term Care Insurance Program (FLTCIP). May receive Wounded Warrior leave provided eligibility criteria are met.
NATIONAL WILLA CATHER CENTER
Program Associate: The role of the Program Associate is to assist with planning, executing, and promoting arts and educational events at the National Willa Cather Center and Red Cloud Opera House. The Program Associate works closely and collaboratively with a cross-functional work team to coordinate performances, guided tours, and conferences, as well as associated virtual and in-person programs.
Museum Technician: Under direction, the Museum Technician's duties will include tasks related to the care and preservation of our collections and archives. This person will be trained in the use of specialized preservation procedures and materials to maintain antiques, furnishings, papers, artwork, and other objects of historical or artistic value; perform tasks in the maintenance and preservation of museum facilities housing artifacts and art objects; conduct basic research; and assist with cataloging and inventorying collections. The museum technician will perform collections care work in several historic house museum properties and in the National Willa Cather Center exhibit spaces and archives.
CITY OF RED CLOUD
Utility Worker – Performs a variety of skilled labor required for new construction and the operation of the maintenance of the electric, water and sewer systems and other municipal facilities as required; may also be responsible for assisting in street and public properties maintenance. Performs skilled operation of equipment and labor for construction, operations and maintenance of the utility systems; constructs water and sewer mains; installs services as required; installs water taps; installs curb boxes; meter poles, meters and pits; records meter number and meter readings when required; repairs and replaces main line valves and hydrants; investigates utility services complaints; drives maintenance truck; operates and maintains tools and equipment assigned to truck; operates sewer rodding machine, jack hammer, front-end loader, backhoe and other construction equipment; checks water pressures and locates water leaks; checks wells and records proper information; maintains proper certification as required by the State; performs maintenance and construction on street and street related projects; performs other duties as required.
If interested please call the city office 402-746-2215
Webster County Community Hospital is hiring for the following positions:
CNA
Director of Nursing
Outreach Services Coordinator, RN
RN
General Application
Printable Application