Phase I Construction Begins on Hotel Garber
Phase I Construction Begins on Hotel Garber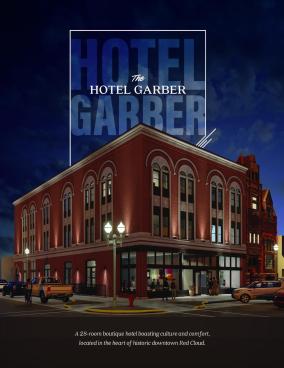 2023 Case for Support document
Red Cloud, Neb
February 24, 2023
Phase I construction has commenced on the Hotel Garber project which will result in the adaptive reuse of a downtown building for the creation of a twenty-eight room boutique hotel in the heart of downtown Red Cloud. Located in the historic Potter-Wright building next door to the Willa Cather Foundation's Farmers and Merchants Bank, the hotel will be named after Silas Garber, a founder of Red Cloud and the prototype for Captain Forrester in Cather's A Lost Lady. As of this writing, nearly $6.4 million has been raised, mostly through generous donations, grants, tax credits, and investments. Current project costs are estimated to be around $7.3 million. Substantial work, including the readdition of the 3rd floor, is anticipated to be complete by late Summer 2023 with construction likely to be completed in 2024.
The hotel will increase the supply of overnight accommodations available in Red Cloud, enabling visitors and event attendees to spend extended time exploring local attractions. The Hotel Garber will be pivotal to the continued transformation of downtown Red Cloud and it is fair to say that the advent of this project and the previous work completed on The National Willa Cather Center have spurred an uptick in retail and building development in downtown Red Cloud. The hotel will help small businesses located nearby to thrive and help Red Cloud become a destination for tourists and small group conferences.
The design features a spacious lounge area on the first floor, which will add life and vibrancy to downtown Red Cloud. A stairwell descending from the sidewalk will be restored for direct entry into a modern meeting space accommodating up to sixty-four guests. Memorable guest rooms will spotlight artwork featuring Red Cloud from days gone by, while the lobby area will also exhibit historic fixtures from the town's rich history.
Data compiled by the University of Nebraska Extension illustrates that Webster County receives, on average, an annual $1.4 million in local economic impact from tourists. A recent economic impact study concluded that with expansion of Red Cloud's lodging options and other customized services and experiential opportunities, some 3,500 visitor couples from outside the local area might spend multiple days in Red Cloud, spending an average of $1,200 per couple per trip. This could mean $4.2 million of total visitor spending annually because of the hotel – which could lead to a total economic impact of nearly $7 million per year. The project will continue to diversify the local economy, creating an estimated ten new jobs and generating over $365,000 in local sales and lodging taxes during the first decade in operation.
Hotel Garber is planned as part of a collaborative agreement for Heritage Tourism Development between the Red Cloud Community Fund/Nebraska Community Foundation, the City of Red Cloud, the Chamber of Commerce, and the Willa Cather Foundation. Financing is being sought through both charitable donations and equity investments. To learn more or to help support the project, please contact Willa Cather Foundation Executive Director Ashley Olson at (402) 746-2653 or aolson@willacather.org, or Red Cloud's Heritage Tourism Development Director Jarrod McCartney, at jmccartney@redcloudnebraska.com. To donate online, please click here.
Naming and Recognition Opportunities for Charitable Gifts
Gifts of any and all sizes are welcome through charitable contributions made to the Willa Cather Foundation as part of their Campaign for the Future. Gifts to the campaign are tax-deductible, and all gifts designated for the hotel will support its development through the Foundation's equity investment in the project. Pledges to the campaign are payable over a 5-year period. If you prefer, you can also donate through the Red Cloud Community Fund. We greatly appreciate your support and are happy to offer you the following special recognition of your gift:
$250,000
$100,000
Hotel Rooms (23 available)
Catering Kitchen
$50,000
Hotel Conference Room & Business Center
Hotel Bar & Breakfast Nook
Hotel Vestibule
$25,000
Hotel Manager's Office
Northeast Entry Stairwell
$10,000
Back Bar in Lounge
Visitor Information Station
$5,000
$2,500
Framed Artwork or Photography
All donations of $1,000 or more will be recognized on a donor wall located in the main lobby near the elevator (see the upper left portion of the photo below):