65th Annual Spring Willa Cather Conference
65th Annual Spring Willa Cather Conference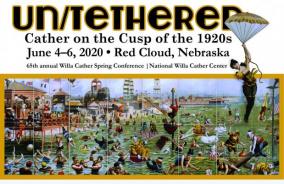 Un/tethered: Cather on the Cusp of the 1920s
June 4, 2020

to

June 6, 2020
Join us as we revisit the short stories of Youth and the Bright Medusa at 100 years.
For Cather and for the nation, the dawn of the 1920s was a tumultuous time, marked by new freedoms and new entanglements. The Great War had ended and women had won the right to vote, but 1919's Red Summer and Palmer Raids signalled lingering social discord. Into this unsettled world, Willa Cather brought out Youth and the Bright Medusa, her collection of short stories that marked her departure from Houghton Mifflin and launched her long and successful partnership with a new publisher, Alfred Knopf. In the stories of Youth and the Bright Medusa, Cather's artists move through a world that is by turns inspiring and enervating.
Un/Tethered explores the themes of Youth and the Bright Medusa and the tensions of this time through broad conference offerings, including a keynote lecture by The New Yorker's Alex Ross, Nebraska film and textile artist Michael Burton's innovative animation installation based on Cather's "A Gold Slipper," a day of insightful scholarly presentations, and a soon-to-be-announced Red Cloud Opera House performance you won't want to miss!
PRELIMINARY SCHEDULE (posted March 9th, 2020--likey to change because of COVID-19)
Thursday, June 4
9:00 - 10:00 Welcome and Opening Plenary
Erica J. Ryan, Ryder University, and author of
When the World Broke in Two: The Roaring Twenties
and the Dawn of America's Culture Wars
10:15-11:30 Panel 1 - "Art as an Antidote"
11:30 - 1:00 Lunch on Your Own in Red Cloud
1:15 - 3:30 Panel 2 A - "Prototypes in Youth and the Bright Medusa"
Panel 2 B - "Place, Space, and Settings in Youth and the Bright Medusa"
3:45 - 5:30 Panel 3 A - "Art and Economics"
Panel 3 B - "Coming, Aphrodite!"
5:45 - 6:45 Invited Speaker Sue McClain
"The New Woman's Closet"
6:30 - 9:00 Burlington Depot Social
Food trucks, lawn games, and cash bar
Friday, June 5
8:00 - 9:00 Newcomer's breakfast (pre-registration required)
9:15 - 10:30 Scholarship winners and presentations
10:4512:15 "Teaching Cather: An Audience-Driven Q&A
12:30 - 1:45 Lunch on Your Own in Red Cloud
2:00-3:00 Open house for Antonette Turner's 100th birthday
3:00-5:30 Artists' Reception with musical performance
6:00 - 7:15 Invited Speaker Alex Ross, of The New Yorker,
and author of the forthcoming Wagnerism: Art and Politics
in the Shadow of Music
7:30 - 9:00 Conference Dinner for all attending
Saturday, June 6
8:00 - 11:00 Coffee and kolache
8:30 - 9:30 Service at Grace Episcopal Church
10:00-11:45 The Passing Show, "Rules and Rebellions:
Exploring the Tensions of Youth and the Bright Medusa"
with panelists: Alex Ross, Mark Madigan, Sarah Young, and
Erica Ryan, and moderated by Diane Prenatt and Elaine Smith
12:00 - 1:30 Lunch on your own in Red Cloud
1:45 - 2:15 Reading - Alex Ross
2:30 - 2:45 Reading - Erica Ryan
3:00 - 5:30 Alternating activities:
Location 1: Archive Open House
Location 2: Talk-Back Session at On the Brix
6:00 - 7:30 RCOH Banquet (separate ticket required)
7:30 - 9:00 "Flicker of Flame," staged adaptations of selections from
Youth and the Bright Medusa
We will continue to update this page as more details are finalized!