Artist Reception: Sarah Rowe
Artist Reception: Sarah Rowe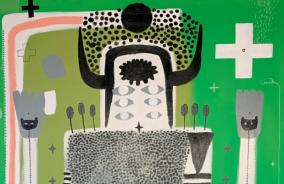 6pm @Red Cloud Opera House Art Gallery
Join the Willa Cather Foundation for a reception with artist Sarah Rowe on Saturday, November 5, at 6:00 p.m. Her exhibition Signal brings form to the voices of animals and celebrates our kinship with them.
Enjoy light refreshments and meet the artist as you view the exhibition in the Red Cloud Opera House art gallery. This event is free and open to the public. Head up to the Opera House auditorium afterward to experience the rocking blues sound of Indigenous. If you want to check out that concert, you can purchase tickets here. Hurry--it might be a sellout!
Signal will be on view in the Red Cloud Opera House Gallery from October 19 to December 17, 2022.
Programming at the National Willa Cather Center's Red Cloud Opera House is made possible with the support of the Nebraska Arts Council and the Nebraska Cultural Endowment.