Bailes Regionales by Ballet Folklorico de Topeka
Bailes Regionales by Ballet Folklorico de Topeka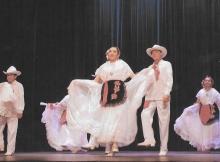 7pm to 9pm @Red Cloud Opera House Auditorium
Ballet Folklorico de Topeka appears for the first time at the Red Cloud Opera House to share Mexican culture and tradition through the art of dance. In their production, Bailes Regionales, the ensemble will perform multiple dances from regions all across Mexico. Experience the enchanting twirling skirts of the Jarabe Tapatio, percussive footwork of El Tilingo Lingo, and impressive machete wielding of the Jarabe Nayarita!
Mexico is composed of thirty-one states, and Ballet Folklorico works to preserve the unique identities of each state through dance. All thirty-one states have various dances with distinct forms influenced by years of Spanish and French rule and exploitation. European and African influences can also be noted in the instrumentation, musical style, dance steps, and costumes, which vary from state to state and between regions within a state. The local indigenous people also preserved their traditions by mixing their dance styles with these various influences.
Ballet Folklorico de Topeka is a program of Justicia, Inc., a non-profit 501(c)(3) organization established in 1972 with the mission to preserve, educate, and promote Mexican/Latino culture through various media and art forms. Ballet Folklorico is also a member of the Asociación Nacional de Grupos Folklóricos, which was formed for the purpose of initiating, developing, and promoting artistic endeavors toward the preservation of Mexican culture, traditions, and organizations. The members of Ballet Folklorico dance to preserve their roots so that "never shall it be lost, never shall it be forgotten, the children of the Aztecs."
Get a taste of Ballet Folklorico's work in this video, as dancer Tina Williams discusses a few of the costumes worn for different dances. (Video courtesy Topeka & Shawnee County Library)
This project is generously funded by Mid-America Arts Alliance, the National Endowment for the Arts, and the state arts agencies of Arkansas, Kansas, Missouri, Nebraska, Oklahoma, and Texas. Programming at the National Willa Cather's Red Cloud Opera House is made possible with the support of the Nebraska Arts Council and the Nebraska Cultural Endowment.
Buy tickets at willacather.org