Business Education After Hours: Red Carpet Service Training
Business Education After Hours: Red Carpet Service Training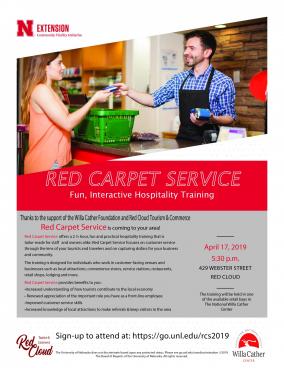 5:30pm at 429 N. Webster St.
Thanks to the support of the Willa Cather Foundation and Red Cloud Tourism & Commerce
Red Carpet Service is coming to your area!

Red Carpet Service off ers a 2 ½ hour, fun and practical hospitality training that is
tailor-made for staff and owners alike. Red Carpet Service focuses on customer service
through the lens of your tourists and travelers and on capturing dollars for your business
and community.

The training is designed for individuals who work in customer-facing venues and
businesses such as local attractions, convenience stores, service stations, restaurants,
retail shops, lodging and more.

Red Carpet Service provides benefi ts to you:
Increased understanding of how tourists contribute to the local economy
• Renewed appreciation of the important role you have as a front-line employee
•Improved customer service skills
•Increased knowledge of local attractions to make referrals & keep visitors in the area
Register online here: https://go.unl.edu/rcs2019