Missoula's Children Theatre Presents: The Jungle Book
Missoula's Children Theatre Presents: The Jungle Book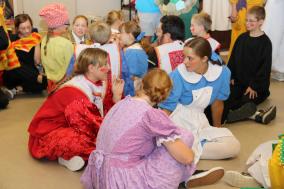 @Red Cloud Opera House Auditorium
August 5, 2022

to

August 6, 2022
Ever been abandoned in the jungle, adopted by wolves, taught by a bear, befriended by a panther, and chased by a tiger? In the Missoula Children's Theatre musical adaptation of The Jungle Book, Mowgli the man-cub has all these adventures and more. Join him as he escapes from the Monkey-People, outwits a tiger, enlists the help of a rock-python, explores what it means to be human, and learns a lesson from the brave mongoose Rikki-Tikki-Tavi. Original music and rollicking humor give new life to the classic tale by Rudyard Kipling.
Auditions will take place on Monday, August 1, at 10:00 a.m., and are open to students entering grades 1 through 12.
Show Times:
Friday, August 5, at 5:30 p.m.
Saturday, August 6, at 2:00 p.m.
Tickets are $12 for adults when purchased in advance and $17 at the door. Children grade 12 and under are free with the purchase of an adult ticket. Go to www.willacather.org or call 402-746-2653 for tickets.
Programming at the National Willa Cather's Red Cloud Opera House is made possible with the support of the Nebraska Arts Council and the Nebraska Cultural Endowment.