Mother and Daughter: One Vision, Two Perspectives
Mother and Daughter: One Vision, Two Perspectives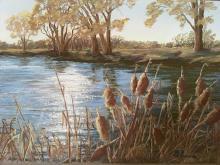 Artwork of Gwen and Christi Lewis
August 10, 2017

to

September 27, 2017

TUESDAY, AUGUST 1, 2017 - 1:15PM TO WEDNESDAY, SEPTEMBER 27, 2017 - 1:15PM
Red Cloud Opera House Gallery
413 North Webster Street
Red Cloud, NE 68970
We welcome the artistic talents of local Mother/Daughter artists Gwen and Christi Lewis. This show is titled "Mother and Daughter: One Vision, Two Perspectives" while they are family you will see the individual and unique talents of both artists.
About Christi
Artist Statement
My artwork is the way I express my emotional reactions to life. Often I do this by abstracting from nature and life to express these emotions. Using a variety of textures, contrasting elements and materials, I hope to pass on these feelings to the viewer.
The use of clay allows me to explore different textures and the contrast between them. I use the smooth and delicate vs. the rough and hardness of the clay to express the balance of life's harsh realities and wondrous adventures.
I use only found objects and recycled materials in my assemblage collages. It is the stark contrast of texture and shape that allows me express deeply personal emotions through my artwork.
Every piece is a unique and original expression of the way I interpret life.
If my pieces invoke an intense emotional reaction from the viewer, then they are successful works of art.
Artist Bio
Christi Lewis was raised on a farm in northern Kansas, attended Red Cloud Community Schools, and graduated from the University of Nebraska at Kearney with a BA in Art Education K-12. She currently teaches K-12 Art in Red Cloud, NE where she resides. Her artwork mostly consists of ceramic sculptures and assemblage collages, focusing on emotional response through the use of different textures and shapes.
She has shown art 11 years with the Association of Nebraska Art Clubs, the McCook, Ne. Open Show, and the Noyes Gallery in Lincoln, NE.