"Our Ántonias" featuring Roger Welsch and Antonia Welsch
"Our Ántonias" featuring Roger Welsch and Antonia Welsch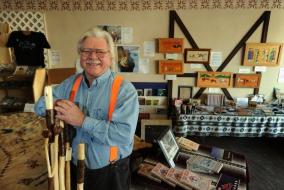 5:30pm to 7pm at the Red Cloud Opera House Auditorium and part of the 63rd Annual Spring Willa Cather Conference
Roger Welsch is a retired professor of English and anthropology at the University of Nebraska-Lincoln and a former essayist for CBS News Sunday Morning. He is the author of more than forty books, including A Treasury of Nebraska Pioneer Folklore, My Nebraska: The Good, The Bad, and The Husker, The Reluctant Pilgrim: A Skeptic's Journey into Native Mysteries, and most recently Why I'm an Only Child and Other Slightly Naughty Plains Folktales.
Antonia Welsch is the daughter of prominent Nebraska folklorist and writer, Roger Welsch and the Nebraska artist, Linda Welsch. She grew up just outside of Dannebrog, NE, the small town made famous in her dad's "Postcards from Nebraska" segments, and attended Nebraska Wesleyan University, with majors in History and English Literature. Antonia lives in Minnesota, with her husband Andrew and son Henry, where she works in communications and training and is an active volunteer for the Hopkins Historical Society and Library.
This presentation is free and open to the public and made possible by Humanities Nebraska.