Paramount
Paramount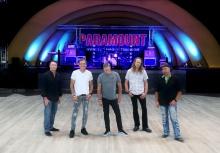 Red Cloud Opera House Auditorium
Purchase tickets at https://www.willacather.org/events/paramount-0 or call 402-746-2653
The Midwest's most popular Eighties rock tribute band Paramount hits the Red Cloud Opera House stage, playing high energy sing-with-us 1980s anthems from Journey, REO Speedwagon, Def Leppard, Poison, Bon Jovi, Guns N' Roses, and many more!
About the Band
Eddie Light (vocals) has an amazing voice and a stage presence that captivates an audience. He sings all the '80s hits effortlessly and excels at getting the audience to sing with him! Eddy really shines on hits by Journey—and who can resist having a great time singing along to songs like "Any Way You Want It" and "Don't Stop Believin'"?
Brent Normandin (bass, backing vocals) not only holds down the low notes for the band and keeps the groove movin'! He also has an amazing vocal range and the ability to hit those high harmonies that '80s bands were known for! Brent and his bass are the THUNDER of Paramount!
While Nevin Truan (lead guitar/backing vocals) did not grow up with '80s music (heck, he wasn't even born yet), he is a true throwback and rare find in the upcoming generation of guitar players. Nevin brings the extra energy and the young lifestyle to the crew. Look for Nevin to shred at every event with Paramount!
Kevin Rome (drums) almost always has a smile on his face or a stick in his mouth.If Brent's bass delivers the thunder of Paramount, Kevin's drums are the cannons saluting "For Those About to Rock"! Kevin delivers the big drum sound that big '80s music needs!
John Depperschmidt (keyboard/rhythm guitar/backing vocals) has been rocking the '80s through the Midwest for over 35 years, including many years on the road touring with No Parking alongside lead vocalist Eddie Light. He was playing '80s rock back when it was just called rock! Bringing the magic of his keyboards along with his rhythm guitar, John rounds out the stage creating Paramount's signature sound.
Brian Feltes (sound & lights) has been in sound production for over twenty years and has been the staple sound engineer for the Paramount Bar of Salina since 2005. It was there that he met Eddie Light and would go on to run sound at the band Paramount's very first performance. With his endless dedication, focus, and attention to detail, Brian brings the heart to Paramount!
THANK YOU TO OUR SPONSORS!
Gary and Beverly Meyer
Dennis and Sally Hansen
GTA Insurance Group
Programming at the National Willa Cather's Red Cloud Opera House is made possible with the support of the Nebraska Arts Council and the Nebraska Cultural Endowment.