Pinnochio: Missoula Children's Theatre
Pinnochio: Missoula Children's Theatre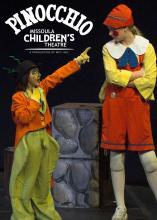 Missoula Children's Theatre: Pinocchio - Friday, Aug. 2 at 3 p.m. and 7 p.m.
The charming story of Pinocchio, the wooden puppet who longed to become a real, live boy, comes to life when the Missoula Children's Theatre (MCT) and more than 50 local students perform an original musical adaptation of this classic tale. The local cast features an array of characters such as Pinocchio, the Blue Fairy, Jiminy Cricket, a villainous fox and a mischievous cat. A crew of puppets, urchins and masterfully crafted toys will round out the cast.
Tickets are $15 for adults and $5 for children in advance; $20 for adults and $7 for children on the day of show
Contact the Willa Cather Foundation at 402-746-2653 for more information.