Reception for Plain View: Pastel and Photography
Reception for Plain View: Pastel and Photography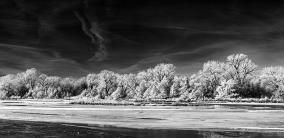 6pm @The Red Cloud Opera House Art Gallery
The Red Cloud Opera House Gallery invites you to join us for an artist reception with Kathleen Lohr and Rick Rasmussen on Friday, October 15, at 6:00 p.m. Enjoy light refreshments and meet the artists while you view their exhibition "Plain Views: Pastel and Photography" on view through October 30, 2021. You can also view the digital gallery here.
Plan to head up to the Red Cloud Opera House following the reception to enjoy a performance by Blue Plate Special, starting at 7:00 p.m. Click here to purchase your tickets!
About the Artists
Kathleen Lohr and Rick Rasmussen grew up in Grand Island, Nebraska, alongside the Platte River and beneath the shadows of the migrating Sandhill Cranes. It is from these perspectives that they draw inspiration for their painting and photography.
Kathleen Lohr is an award-winning painter whose work can be found at Studio K in Grand Island, the Museum of Nebraska Art in Kearney, and a number of private collections. She expresses her passion for art in both the studio and the classroom. Lohr taught studio art at Central Community College for 19 years and presently teaches art history at Northeast Community College in Norfolk. She has served on the board of directors of the Bone Creek Agrarian Museum in David City and previously served as the manager of the Columbus Art Gallery. Lohr received her BA from the University of Northern Colorado and her MA in art education from the University of Nebraska. She currently lives in Columbus with her husband John and their dog Rhys.
Rick Rasmussen is an internationally acclaimed wildlife photographer who has been photographing what he sees in nature for over 40 years. A recipient of numerous awards, including two international awards in Nature's Best Magazine, Rasmussen's work has been published in NEBRASKAland Magazine, Nebraska Life Magazine, Wyoming Wildlife Magazine, and Ducks Unlimited Magazine. Rasmussen has traveled to Alaska, South America, Antarctica, Iceland, Norway, and throughout the United States, but his favorite place to photograph is Central Nebraska where he lives on an acreage along the Platte River Valley with his wife Lori and their two dogs Red And Genie.