Republican River Stock Tank Float
Republican River Stock Tank Float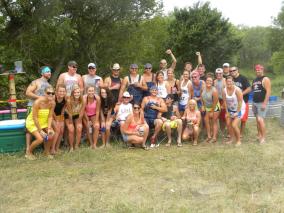 The 12th Annual Cowles American Legion Post 116 Republican River Stock Tank Float will take place Saturday, July 16th. The race starts at the Old Riverton Bridge (Rd 43 in Franklin County) and will end at the Inavale Bridge (Rd 500 in Webster County). Tubes and Kayaks are also welcome!!

Registration will start at 10am at the Old Riverton Bridge. Cash prizes: $100 for 1st, $75 for 2nd, and $50 for third. Registration is $20 per person and each person must have a life vest.

Tank Float T-shirts and tank tops will be available for $20 each. Contact Stacy at 402-746-4744 for more information!

***NOTE: THIS IS EVENT IS ORGANIZED BY AND ANY BENEFITS FROM IT WILL GO TO THE COWLES AMERICAN LEGION POST 116***