Savages & Princesses: The Persistence of Native American Stereotypes
Savages & Princesses: The Persistence of Native American Stereotypes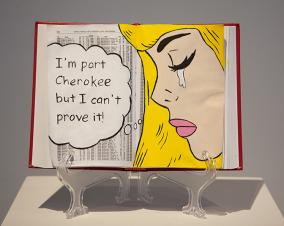 April 4, 2019

to

May 25, 2019
Stereotypes of Native American peoples are ubiquitous and familiar. The exhibition Savages and Princess: The Persistence of Native American Stereotypes brings together thirteen contemporary Native American visual artists who reclaim their right to represent their identities as Native Americans. Whether using humor, subtlety, or irony, the telling is always fiercely honest and dead-on. Images and styles are created from traditional, contemporary, and mass culture forms.
The exhibition, originally presented at Tulsa's 108|Contemporary in 2016, intends to counteract the disappearance of Native portrayals. It embraces Native Americans' power to replace stereotypical images that permeate the current pop culture landscape. Recognizing that stereotypes often occur without conscious awareness, the exhibition includes didactic information that explores common stereotypes about Native peoples that are falsehoods, followed by the truths behind them.
According to exhibition curator America Meredith, American society has great difficulty acknowledging its past with Native peoples or allowing them visibility in the present. The exhibition's artists use the unexpected—humor, emotion, or shock—to encourage viewers to question and challenge stereotypes, even unspoken, unacknowledged ones.
Cherokee Nation artist and arts writer America Meredith is a graduate of both the San Francisco Art Institute and the University of Oklahoma. She has curated many exhibitions featuring Native American artists and subject matter and uses Cherokee culture and language in her work.
The artists represented are:
Matthew Bearden (Citizen Potawatomi-Kickapoo-Blackfeet-Lakota) mixed media artist, painter, Tulsa, OK
Heidi BigKnife (Shawnee Tribe), jeweler, Tulsa, OK
Mel Cornshucker (United Keetoowah Band), ceramic artist, Tulsa, OK
Tom Farris (Otoe-Missouria-Cherokee), mixed media artist, Norman, OK
Anita Fields (Osage-Muscogee), ceramic artist, Stillwater, OK
Kenny Glass (Wyandotte-Cherokee), textile artist, regalia maker, Tahlequah, OK
Shan Goshorn (Eastern Band Cherokee), photographer, Tulsa, OK
Juanita Pahdopony (Comanche), sculptor, Lawton, OK
K. H. Poole (Caddo-Delaware), draftsperson, Oklahoma City, OK
Zach Presley (Chickasaw), collage and digital artist, Durant, OK
Hoka Skenandore (Oneida-Oglala Lakota-Luiseño), mixed media artist, Shawnee, OK
Karin Walkingstick (Cherokee Nation), ceramic artist, Claremore, OK
Micah Wesley (Muscogee-Kiowa), mixed media artist, Norman, OK
The exhibition was made possible in part by a grant from The Andy Warhol Foundation for the Visual Arts.