Back Alley Bicycles & Outfitters selected as 2023 Nebraska Passport Stop
Back Alley Bicycles & Outfitters selected as 2023 Nebraska Passport Stop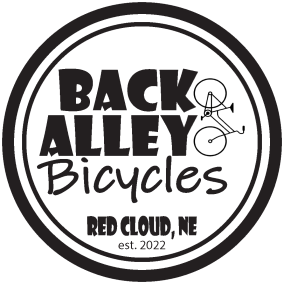 FOR IMMEDIATE RELEASE
LINCOLN, Neb. (March 1, 2023) – Nebraska Tourism is excited to announce the stops included in the 2023 Nebraska Passport program. The Passport inspires Nebraskans and tourists to travel throughout the state collecting stamps to earn prizes while also supporting Nebraska's tourism destinations and local businesses.
"We are thrilled to kick off the 2023 Nebraska Passport after another strong year in 2022," said John Ricks, Nebraska Tourism executive director. "This year's program will offer yet another chance for Nebraska travelers to experience our hidden gems while leaving a positive economic impact across the state."
The 2023 Passport will once again feature 70 attractions and 10 themed categories. This year's program represents 56 communities spanning the entire state. Travelers will have from May 1 through September 30 to visit the attractions and collect their stamps.
"2023 has plenty of Passport stops that are brand new to all kinds of participants," said Madison Johnson, Passport program coordinator. "This year, you can go antiquing, feed zoos animals, rent bikes and eat everything from BBQ to artisanal chocolates! Most importantly Passporters will spend quality time with friends and family or simply fall in love with Nebraska."
Passports will be available at participating stops starting May 1 or can be pre-ordered at NebraskaPassport.com. Participants are encouraged to download the Nebraska Passport App on their smartphone for the option of digital stamps, supplementing the physical Passport booklet for convenience. Please note, the Passport app will be updated with the 2023 information on May 1. Those who used the mobile app last year will need to update the app to see the new program information. To download, search 'NE Passport 2023" in the Apple App Store or Google Play App Store.

2023 Passport stop categories
Antique Chic
Creature Comforters
Hand-Made Happiness
Hey, Sugar!
Local Diner-Ing
Recycled Architecture
Refreshments Ahead
The Self-Expressway
Welcome to Charmingsville
Ye Olde Stuff
Selected sites (by town)
Dragonfly Desserts Coffee House & Bakery (Alma)
CaLinda's Pot Shop & Art Gallery (Ashby)
Crunchy Bits Candy (Auburn)
Edgerton Explorit Center (Aurora)
Gage County Historical Society and Museum (Beatrice)
Fontenelle Forest (Bellevue)
Sandhills Journey National Scenic Byway Visitor Center (Broken Bow)
Custer County Museum (Broken Bow)
Normal Roasting Company and Coffee Lab (Burwell)
Sandhills Boutique (Clarkson)
Terrace Books (Columbus)
Circle C Market (Cody)
Robert Henri Museum and Art Gallery (Cozad)
High Plains Homestead (Crawford)
Wiebelhaus Recreation (Crofton)
Valley View Inn (Curtis)
Graf Bees LLC – The Buzz (Emerson)
The Refuge at Landmark Nursery (Eagle)
Collection Museum (Falls City)
Gatherings Market (Falls City)
Three Brothers Vineyard and Winery (Farnam)
Legacy of the Plains Museum (Gering)
Railroad Towne Antique Mall (Grand Island)
Little Bluestem (Grant)
First Street Brewing Co. (Hastings)
What the Dickens? (Hastings)
Double L Country Store and Café (Harrisburg)
Big Apple Fun Center (Kearney)
Central Mercantile feat. Ktown Cakery (Kearney)
Mac's Creek Winery & Brewery (Lexington)
Dear Myra Boutique (Lincoln)
Lincoln Children's Zoo (Lincoln)
Lulubee Artisanal Chocolates (Lincoln)
Kiechel Fine Art (Lincoln)
Rachel's Boutique (Lincoln)
The Loft by LDI (Lincoln)
Red Willow Reservoir State Recreation Area (McCook)
Scatter Joy Acres (Murray)
The Old Poor Farm Animal Sanctuary (Nickerson)
Civil War Veterans Museum (Nebraska City)
Neligh Mill Historic Site (Neligh)
Niobrara Valley Vineyards LLC (Nenzel)
4th St. Sweets (Norfolk)
Main Street Gallery (North Loup)
Grain Bin Antique Town (North Platte)
The Flower Market and Gifts (North Platte)
Second Chapter Brewing & Lake Mac Shack (Ogallala)
Big Mama's Kitchen and Catering (Omaha)
Dundee Candle Co. (Omaha)
Hay Jay Coffee (Omaha)
Shop Five Nine (Omaha)
Diana's Tea Shop and Room (Papillion)
Shepherd's Rest Goat and Sheep Rescue (Pickrell)
A Collective Gathering Antiques Flea Market (Potter)
Back Alley Bicycles & Outfitters (Red Cloud)
Ashfall Fossil Beds State Historical Park (Royal)
The Rescue Bar & Grill (Sargent)
Gold Mine Antiques (Schuyler)
Riverside Discovery Center (Scottsbluff)
The Crispy Biscuit Pet Deli (Scottsbluff)
Pebble Creek Vintage Thrift (Scribner)
HillTop Gardens (Scotia)
Indian Cave State Park (Shubert)
Sam & Louie's NYP home of Boss City Brewing Co. (Sidney)
ReMain (Springfield)
Wayside Barn Shoppe (Stella)
Bulldoggers BBQ (Valentine)
Branding Iron Café (Wahoo)
The Bohemian Duck (West Point)
WhiteClay Makerspace (Whiteclay)
The 2023 Nebraska Passport program is sponsored by History Nebraska, Nebraska Corn Board, the Nebraska Lottery, Y Boutique by Younes Hospitality, Union Bank & Trust, Runza, the Nebraska Game and Parks Commission, Omaha Steaks and Nest 529 Education Savings.
For more information about travel, events and unique destinations in Nebraska, order your free travel guide today at VisitNebraska.com. Then stay connected with Nebraska Tourism on our Visit Nebraska Facebook page, on Twitter, on Pinterest, on Instagram and on YouTube.

The mission of the Nebraska Tourism Commission is to expand Nebraska's dynamic and diverse travel industry making it more viable by creating awareness, attracting increased visitors which results in greater tourism revenue and economic gain throughout the state. To learn more, go to VisitNebraska.com.
####