BRAN 41 to Visit Red Cloud June 6-7
BRAN 41 to Visit Red Cloud June 6-7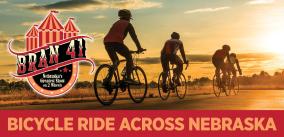 In 2018, Red Cloud won "Best Host" community during the last visit from the Bicycle Ride Across Nebraska (BRAN) organization. Community leaders will attempt to win that title again in 2023 and secure scholarship money for 2024 RCHS high school seniors who plan to attend a college in Nebraska.

Learn more about BRAN 41 in the press release below:
PRESS RELEASE ---- FOR IMMEDIATE RELEASE
Contact: Doug Scherlie, President and Director, Bicycle Ride Across Nebraska (BRAN)
Phone: 402-297-1230
Email: bicyclerideacrossnebraska@gmail.com
BRAN Offers Fun and Safe Bicycling Event for its 41st Year
January, 2023: Omaha, NE – The Bicycle Ride Across Nebraska (BRAN) is a family oriented tour which provides rider friendly routes and numerous amenities for its participants. The tour offers bicyclists the opportunity to take part in a 3 day, 4 day or week-long bike ride celebrating the Good Life of Nebraska. BRAN is a 501(c) 3 non-profit organization that provides scholarships to Nebraska high school seniors from the overnight host communities to attend Nebraska trade schools, colleges, universities and other post-secondary opportunities.
The theme of this year's BRAN is "NEBRASKA'S GREATEST SHOW ON TWO WHEELS" which will provide the opportunity to ride on both paved highways and gravel ride options through scenic areas of south central Nebraska. The ride will start in Benkelman on Sunday, June 4th and overnight in Cambridge, Alma, Red Cloud, Hebron, Wilber, Seward and will end in Ashland on Saturday, June 10th. This year's BRAN will again have 3 and 4 day options as well as the traditional 7 day tour and several gravel ride options.
While we provide scholarships, our ultimate goal is to offer bicyclists a safe and fun ride each year. BRAN awards scholarships to students selected from the host communities' schools with the only qualifier that those students attend a Nebraska school or other educational opportunity.
The cost of the tour is $350 for the week or $240 for the 4 day and $180 for the 3 day tour; registration increases after April 1, 2023. Included in the fee are transportation of bicycles to the start town, transportation of all gear during the week, stationary and mobile support on the road including water and refreshments, hot showers with towels, a commemorative t-shirt, and water bottle and coffee in the morning. Additionally the tour provides the opportunity to ride with fellow cyclists and to meet with town residents and enjoy the good life of Nebraska. Bus rides to the beginning town of Benkelman is an additional charge. Registration should be done on-line at BRAN-inc.org. There are no paid employees and BRAN is run completely by volunteers who use personal time to work for the benefit of the riders.
For more information or for interviews, contact Doug Scherlie, President and Ride Director at 402-297-1230 or email bicyclerideacrossnebraska@gmail.com . Additionally you can contact Lee Lazure, Vice President/Public Relations at 402-689-7954 or e-mail at llazure@hotmail.com
BRAN is a registered non-profit corporation founded in 1980 as "a bicycle ride by bicyclists, for bicyclists". BRAN is a non-competitive tour providing a safe and supported ride for bicyclists of all ability levels. Operated entirely by volunteers, including members of the Omaha Pedalers Bicycle Club, BRAN has visited all counties in Nebraska and most communities. BRAN limits the number of participants to 600. BRAN contributes to local economies and boosts Nebraska tourism.