Children's Hospital & Medical Center Awards Community Impact Grant to The Valley Child Development Center
Children's Hospital & Medical Center Awards Community Impact Grant to The Valley Child Development Center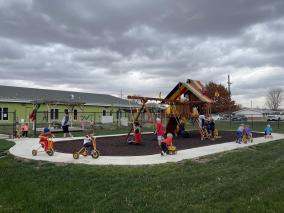 by Children's Hospital & Medical Center
Children's Hospital & Medical Center has named 10 regional non-profit organizations as Community Impact Grant recipients for 2023-2024. Each organization will partner with Children's to receive $25,000 to implement strategies aimed at addressing financial stability, food security, healthy housing and/or pediatric mental wellness.
Rebranded in 2023, Children's Community Impact Grant program was established in 2013 to promote positive health outcomes in children by addressing family-based needs where children live, learn and play. The Community Impact Grants support health equity, and selected programs will reach underrepresented child populations, including children of color, children with disabilities and children from disadvantaged backgrounds.
All grantees will participate in a Learning Collaborative designed and hosted by Children's Community Health & Advocacy team and Gretchen Swanson Center for Nutrition. The collaborative learning sessions will encourage and promote shared learning among funded organizations through quarterly trainings and technical assistance.
"These 10 grant recipients will be reaching urban, rural, regional and statewide communities, having a significant impact on more than 15,000 children and families," shared Holly Dingman, director of Community Health & Advocacy at Children's. "We look forward to learning and partnering with these organizations to improve the lives of children and families."
The Valley Child Development Center (TVCDC) will expand their Edible Schoolyard Garden program to ensure children from infancy through age 12 in rural southcentral Nebraska have access to healthy foods. TVCDC will use Children's funding to purchase fruit trees, a vertical aeroponic garden system and a storage shed. By expanding areas for gardening, TVCDC will offer new varieties of produce to families, such as peaches, pears, apples, grapes, raspberries, blackberries, blueberries, kohlrabi, sunchoke and bok choy. In addition, TVCDC will expand parent education and community outreach efforts by offering a nutritious meal that incorporates elements of their garden at monthly community garden nights.