Construction resumes on Red Cloud's new hotel
Construction resumes on Red Cloud's new hotel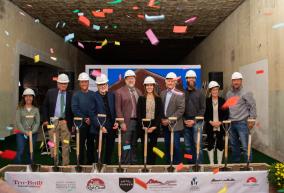 by Jazari Kual from the Nebraska Examiner
LINCOLN — A recent groundbreaking ceremony celebrated the renewal of construction on the Potter Block building in downtown Red Cloud, Nebraska.
The Potter Block building will undergo rehabilitation and be transformed into a 22,500-square-foot facility, which will become Hotel Garber. Renovations began in early 2018 with excavating and underpinning the basement so the hotel could support the return of a new third floor that burned down in 1961.
Hotel Garber will be a 26-room boutique hotel, featuring an event and meeting space, a spacious lounge, catering facilities and a small library.