Cultivating Red Cloud's philanthropic spirit
Cultivating Red Cloud's philanthropic spirit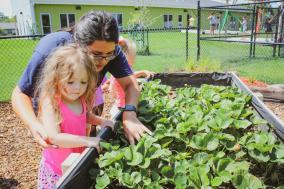 by the Nebraska Community Foundation and the Rural Radio Network
Like many young Nebraskans, Willa Cather Foundation Executive Director Ashley Olson returned to her hometown to build a life in the community that raised her. She's grateful to have found her place in Red Cloud, where she also serves on the Red Cloud Community Fund Advisory Committee.
Since her return, Olson has joined her neighbors in making Red Cloud shine brighter than ever. The community cultivates a collaborative spirit, exemplified by partnerships between The Willa Cather Foundation, city officials, RCCF, and the Chamber of Commerce. One such effort resulted in the hiring of a tourism director, Jarrod McCartney, who has furthered Red Cloud's position as a cultural touchstone for Nebraska. Another group effort led to the 2018 opening of The Valley Child Development Center, a state-of-the-art early childhood education center. Local volunteers raised $2.2 million to make this ambitious dream a reality.
"Red Cloud residents really understand that in order to build and sustain our community, we as the people who live and work here every day have to be willing to support it charitably in order to build and sustain the type of place that people want to live and work and visit," Olson said.
For Olson and McCartney, the transfer of wealth offers a test for Red Cloud's philanthropic spirit – one that, if passed, could propel the community to greater heights.
"I saw it as a tremendous opportunity," McCartney said when asked what he thought when he first learned the figures for Webster County. Through the next 10 years, the county is expected to see $350 transfer. Just 5% captured would inject nearly $18 million back into the community. McCartney, Olson, and their compatriots in Red Cloud know they can't wait on government grants or angel investors to achieve their dreams – but they now know all the wealth they could ever use is right at home.
"What really will save our community is the community itself," McCartney said.