Escape Into Cather's Prairie Landscapes
Escape Into Cather's Prairie Landscapes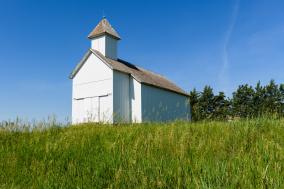 Visit Red Cloud and immerse yourself in the settings and landscapes that inspired so much of Cather's writing. Late summer is a perfect time of the year to plan your weekend escape into the prairie and to get acquainted with the rural areas surrounding Red Cloud as the weather is typically dry, the dirt and gravel roads are at their most accessible, and the fields are full of corn and soybeans as farmers prepare for fall harvest.
One of the best ways to lose yourself in Cather's world is to take our Country Tour which highlights twenty historic sites related to the life and writing of Willa Cather. You may schedule a guided tour of these sites by contacting Education Specialist Rachel Olsen, or you may purchase a detailed Country Tour Book for a self-guided tour. The Country Tour takes visitors through roughly fifty miles of the Webster County countryside, including settings from Lucy Gayheart, My Ántonia, O Pioneers!, One of Ours, short stories "Neighbour Rosicky" and "Peter," and others, as well as many scenes from Cather's own life—the Cather homesteads and the prairies and river where the Cather children played and explored. Tours are $50 and you should plan on scheduling your tour well in advance of your arrival.
If you're searching for the best location for a spectacular Nebraska sunset, look no further than the Willa Cather Memorial Prairie, located 5 miles south of Red Cloud on the Kansas border and consisting of 612 acres of never-been-plowed prairie. Before you go out to the site, be sure to stop at the Willa Cather Bookstore in the National Willa Cather Center and checkout a free Prairie Exploration Backpack. If you get to Red Cloud soon, you can catch the spectacular light display put on by fireflies out at the prairie and in the meadows surrounding the geographic center of the contiguous United States, located just down Highway 281 near Lebanon, KS.
Arrive the weekend of August 9th-11th and you can checkout the reception for photographer and artist-in-residence Richard Dickson's "Beauty in the Ordinary" exhibit at the Red Cloud Opera House Art Gallery at 5pm on Friday, August 9th. Throughout his stay in Red Cloud, Dickson will create a body of photographic artwork pertaining to the Cather sites and the scenic landscapes in Webster County.
Consider visiting the weekend of September 20th-22nd and check out BARNFEST 2019 at the Historic Starke Round Barn just east of Red Cloud on Saturday, September 21st. On the 22nd, be sure to view a performance of the play, "Love, Loss, and What I Wore" by the Beatrice Community Players in the Red Cloud Opera House Auditorium. For more ideas about how to spend a weekend in Red Cloud and where to find lodging, contact Jarrod McCartney, Director of Red Cloud Tourism & Commerce.