Experiencing a native prairie
Experiencing a native prairie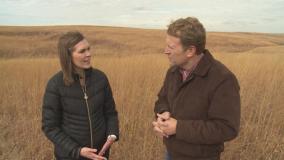 from 10/11's Pure Nebraska:
The 612-acre Willa Cather Memorial Prairie is a native prairie, which means it's never seen the blade of a plow.
The prairie was acquired by the Willa Cather Foundation in 2006, through a gift by the Nature Conservancy. Shortly after that, the Foundation started a 3-year restoration effort to restore the prairie to its pre-1900 conditions. "We removed several thousands invasive tree species, mainly red cedar and Chinese elm," Willa Cather Foundation Executive Director Ashley Olson said. "It's really a special experience here. The prairie itself played a role in Cather's life, and much of her writing. Coming out to a place like this gives you a chance to experience what a native prairie would have looked like, and how one might have felt after walking out and being surrounded by a sea of grass"...