Give back to your hometown during the Red Cloud Community Fund's September Month of Giving
Give back to your hometown during the Red Cloud Community Fund's September Month of Giving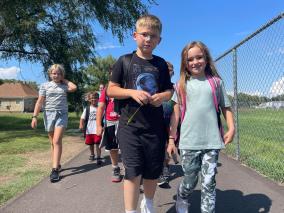 Launched in 2020, the Red Cloud Community Fund's (RCCF) September Month of Giving has raised $39,000 for community improvement projects. Funds raised during the month of September each year are granted out to local causes and organizations before the end of the calendar year, allowing them to have an immediate impact. Funds raised during September will be placed in RCCF's General Fund and granted to legally eligible local organizations for specific causes via a vote of the RCCF board.

Past grants from the September have supported The Valley Child Development Center (TVCDC), Cherry Corner Estates, the Red Cloud Recreation Trail, Illian Ballfield Improvements, RCCF's Youth Committee, Webster County Senior Services, The City of Red Cloud, Heritage Tourism, Hotel Garber, and the Historic Preservation Commission.
Interested in making a donation? Checks can be made out to Red Cloud Community Fund and mailed to: RCCF, PO Box 263, Red Cloud, NE 68970. If you would prefer to donate online, please go to the following address and donate to the General Fund: www.nebcommfound.org/give/red-cloud-community-fund/. To learn more about making a multiyear pledge, making a tax advantaged contribution via a required minimum distribution from your IRA, a gift of grain or more please contact RCCF Treasurer Dennis Hansen at 402-746-4202 or visit with any RCCF member (Chair Jarrod McCartney, Vice Chair Danny Benge, Secretary Stacie Heldt, Treasurer Hansen, Ashley Armstrong, Kim Ely, Miles McDole, Ashley Olson, Adam Vetter, and John A [Jay] Yost).
The Red Cloud Community Fund is a Fund Affiliated Community (FAC) of the Nebraska Community Foundation.