Heritage Tourism Development donates TV to display historic Sid Tobler photos at the Webster County Historical Museum
Heritage Tourism Development donates TV to display historic Sid Tobler photos at the Webster County Historical Museum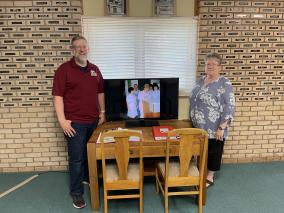 Last Spring, the National Willa Cather Center (NWCC) was selected to host the traveling Smithsonian Exhibit "Crossorads: Change in Rural America." As part of that exhibit, NWCC Education Director and Archivist Tracy Tucker collaborated with Webster County Historical Museum (WCHM) Director Teresa Young to properly label and display photos taken by former Red Cloud business owner Sid Tobler. The photos were taken from the original slides and converting into digital files. The photographs depict life in downtown Red Cloud during the 1950s-1970s and feature several business owners and customers, including Tobler himself.
Tucker asked Red Cloud Heritage Tourism Development Director Jarrod McCartney for the temporary use of a TV housed in his office to display the photos as part of the Smithsonian Exhibit. Seeing the Tobler slides come to life was a joy for many residents and Tucker and Young hosted events during Alumni Weekend that provided more detail about the photos. McCartney also displayed the photos during the Alumni Banquet at the Community Center.
While the Smithsonian Exhibit photo display were a great success, they represent only a fraction of Tobler's photo collection. Young printed out all of the photos and they are now available to view at the WCHM Exhibit building. Due to the success of the exhibit, McCartney felt that his TV would be put to better use at the County Museum so that visitors could view the photos on a larger screen. Heritage Tourism Development would like to donate a bigger screen to the County Museum in the near future as well as help raise funds for a new heating system for the museum mansion.
WCHM is open from 1pm to 5pm every day except Monday from April through October. Contact Young at 402-746-2444 or visit in person at 721 W. 4th Ave if you would like to make a donation to the museum.
Don't forget that WCHM has FREE ADMISSION during Street Cars, Aug. 5-7 from 1pm to 5pm. "McCoy Pottery, Glass Baskets, and Historic Mainstreets of Small Town Webster County" are the featured exhibits this year!