Inavale Community Hall Named to National Historic Register
Inavale Community Hall Named to National Historic Register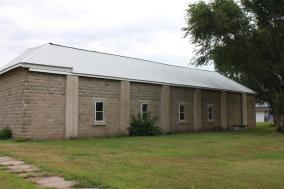 LINCOLN, Neb. (KSNB) - Buildings in York, Ravenna and Inavale are now listed in the National Register of Historic Places.
They were among six buildings registered according to History Nebraska. They include the Inavale Community Center in Inavale, the Bohning Memorial Auditorium in Ravenna, the York Auditorium in York, the Centenary Methodist Episcopal Church in Beatrice, the Iowa-Nebraska Light and Power Company Plant in Lincoln, and the Agricultural Society Building in Weeping Water.
The Inavale Community Hall and Gymnasium in the unincorporated community of Inavale in rural Webster County represents a Works Progress Administration era recreational building. The New Deal's WPA program built hundreds of projects in the state and employed thousands of people during the Depression and early years of World War II. This building was constructed one year before the program ended using paid and volunteer labor. The builders used salvaged concrete blocks from a building in the neighboring city Red Cloud showing their resourcefulness and can-do attitude. The period of significance begins in 1942, the year it was constructed, and extends through 1972, 50 years before the writing of the nomination. The building served as a roller rink until 1979 and while it has been used for other purposes it is now vacant.