New Heritage Tourism Logo Revealed; Changes to Monthly Newsletter
New Heritage Tourism Logo Revealed; Changes to Monthly Newsletter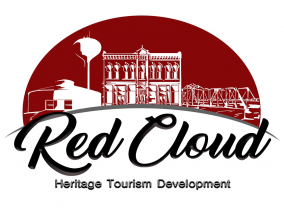 by Jarrod McCartney, Heritage Tourism Development Director
A FRESH LOOK
During the summer of 2021, Heritage Tourism Development was blessed to have Cheyenne Knehans as a "Hometown Intern" thanks to a partnership with the Nebraska Community Foundation and the Willa Cather Foundation. One of the many exciting things Cheyenne worked on was a set of new logos for Heritage Tourism. It is my hope that this new logo will help ease some of the confusion in the Red Cloud Community about who I represent. I won't go into detail about the Heritage Tourism Development partnerships and the role of the organization in this short column--I'll save that for the revival of my old column in the Red Cloud Chief on March 23rd (and every 4 weeks after). But I will say that I regret altering my title and cobranding with the Chamber. Undoubtedly, it helped streamline our marketing efforts outside of the community. However, I think that it made things more confusing for locals. That's why for communication coming strictly from my office we will now be using only the Heritage Tourism Development logo (see below). I will go back to my old title of Heritage Tourism Development Director to illustrate that my work focus is on tourism development and development of related businesses. I have also suggested that the Chamber keep the Red Cloud script logo, but start using "Chamber of Commerce" in its communications. You will likely still see the Tourism & Commerce logo used on correspondence for a while during the transition.
I'm excited about what Cheyenne created and am even more excited to forge an independent identity for Heritage Tourism Development, something that has been lacking since we launched this initiative in 2015 and has probalby allowed perspectives of it to be swallowed up in conjecture about the role of various partners in the collaboration. The goal going forward will be consistent, clear, and simple communication.
NEWSLETTER CHANGES
The newsletter has simply gotten too long. That makes it difficult for you to read and too time consuming for me to write. It also winds up burying the lead by making you scroll and scroll to get to the events and the "Get to Know" feature about local businesses and leaders. During the pandemic, I also went digging for a few stories in the absence of events. This has led to an overreliance on covering things going on at the school and with the Community Fund. These are all great and interesting stories, but they are better covered by the school and the local newspaper. Going forward, I will only include short blurbs about stories related to tourism and/or commerce. In many instances, these blurbs will link to longer form stories for those of you more interested in doing a deep dive on a subject.
I will, occasionally, include some fundraising appeals since the newsletter would not exist without the Red Cloud Community Fund. I will be shifting the focus of this newsletter outward now that we are better equipped to deal with the pandemic. I was elated to learn that despite the pandemic, Webster County shattered its previous record for lodging tax revenue collection and bested its previous mark for overnight stays in 2021. This illustrates that there's a tourism market in Red Cloud that has the potential to survive and even flourish in difficult times.
Looking forward to working with all of you to make Red Cloud a better place and, one day, the best small town in America!
Jarrod McCartney, Heritage Tourism Development Director