Old house becomes new business venture
Old house becomes new business venture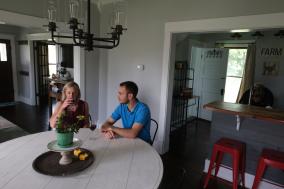 from 10/11's Pure Nebraska....
A couple took a old house that was in disrepair across the street from their own home, and turned it into a welcoming guest house for visitors.
Lisa and Todd Mahin are the owners of the "M" Guest House in Red Cloud. "It's more of a guest house than a bed and breakfast," Lisa Mahin said. "We don't make breakfast, but people can certainly bring in their own food. We do know this house was built in 1910, and when we moved here, we saw this opportunity to purchase the home, so we did. We had two options. Either we'd burn it, or make something out of it, so we made something out of it, because the house does have good bones."
Photo credit: Nebraska Tourism Commission