Red Cloud's Frey doubling as football star, beekeeper
Red Cloud's Frey doubling as football star, beekeeper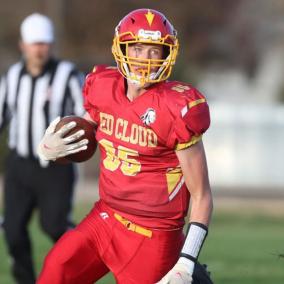 by Mason Kern, KSNB Local 4
RED CLOUD, Neb. (KSNB) - Caden Frey is passionate on the football field and has discovered a new passion off it.
"He always wanted to do bees, my dad did, and he thought it would be fun to try," the Red Cloud incoming senior said. "We bought two of them and I went and helped him with it and I fell in love with it right there."
Frey is a six-man football player with Division I scholarship offers.
"Football was never the thing that he really strived for," said Andrea Frey, Caden's mother. "He was always the kid crawling in dirt and picking the bugs and finding everything, so beekeeping was an easy transition for him."
He's also a beekeeper, known as the 'Bee King' of Red Cloud.