Red Cloud Community Fund awards year-end grants from September Month of Giving Campaign
Red Cloud Community Fund awards year-end grants from September Month of Giving Campaign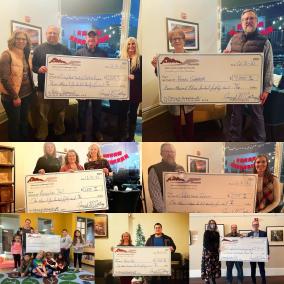 The Red Cloud Community Fund (RCCF) raised nearly $24K for local organizations and causes during the month of September. In December, RCCF was able to grant out that money. Pictured above, Top Left corner are RCCF member and Recreation & Health Committee Chair Stacie Heldt with donor Ana Armstrong (On the Brix) and fellow RCCF member Ashley Armstrong. RCCF raised $1,550 for Phase 1 of the RecreationTrail Project which will hopefully connect the Elementary School to The Valley Child Development Center (TVCDC). On the Brix also helped raise another $2000+ at a separate December fundraiser.

Pictured in the Top Right Corner are Dr. Kerri Fangmeyer (Red Cloud Animal Health), Casey Fangmeyer, Mike Faimon (Gottsch Livestock Feeders), and Bridget Daehling (GTA Insurance Group). RCCF raised $3,525 to support upgrades at the Red Cloud Ballfields being spearheaded by Casey Fangmeyer and the Red Cloud Athletic Association.

Pictured in the Middle Left Panel is Meggan Messersmith, Executive Director of TVCDC, and several school-aged children enrolled at the facility. RCCF raised $5,050 for TVCDC to help ensure the community has a high quality child care center. In all, RCCF has granted TVCDC $20,050 in 2021, in addition to funds raised specifically for TVCDC's use via RCCF's Child Care Account.

Pictured in the Middle Right Panel are RCCF members Ashley Armstrong and Miles McDole, who are both involved in RCCF's Youth committee. RCCF raised $1,750 for its newly created Red Cloud Area Youth FAC account.

Pictured in the Bottom Left corner are RCCF Chair Jarrod McCartney and Past Chair Ashley Olson accepting a $1,775 grant to RCCF's Heritage Tourism account. McCartney is the Heritage Tourism Development Director. Olson and McCartney both serve on the Heritage Tourism Advisory Committee. In all, RCCF has granted Heritage Tourism $16,775 in 2021.

Pictured in the Bottom Center are Historic Preservation Commission (HPC) members Alise Perault and Dan Benedict along with RCCF member Jay Yost. Benedict is the President of the HPC. RCCF granted HPC $2,750 in 2020-21.

Pictured in the bottom right-hand corner are Liz Rasser and Jarrod McCartney, accepting a $7,350 grant for the Hotel Garber project. Rasser is the Secretary for the Red Cloud Hotel, LLC while McCartney is the President. RCCF has a newly established Red Cloud Hotel account and can now accept donations of any amount for the project.

RCCF's September Month of Giving Campaign has been a huge success, generating more than $39K for immediate community needs in 2020-21.