Red Cloud Community Fund to hold 4th Annual September Month of Giving
Red Cloud Community Fund to hold 4th Annual September Month of Giving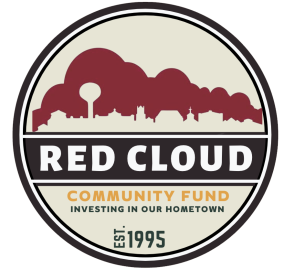 RED CLOUD--Launched in 2020, the September Month of Giving is a time of focused fundraising for the Red Cloud Community Fund (RCCF). Money raised during this time will be granted to eligible entities to address community needs before the end of the calendar year. RCCF has raised more than $65K over the last 3 Septembers, establishing a new record of $26,406 during September 2022. This year's fundraising goal is $30,000!

Past recipients of September Month of Giving grants include: City of Red Cloud (Cherry Corner Estates, RC Ballfields Project, Historic Preservation), The Valley Child Development Center (TVCDC), Heritage Tourism Development, the Nebraska Trails Foundation (for the Red Cloud Recreation Trail), and the Red Cloud Area Youth Committee.
This year's fundraising efforts will focus on RCCF's own accounts (TVCDC, Heritage Tourism, Red Cloud Area Youth, Legacy Endowment, Hotel Garber, Clint Erickson Memorial Scholarship, Jon and Dorothy Sherwood Nontraditional Scholarship, RCCF and RC Memorial Scholarships, and more). However, donations to RCCF's General Account can be granted to eligible entities such as political subdivisions (City of Red Cloud, Webster County, resource districts), local schools, and other non-profits. Speak with any RCCF member to learn more or email RCCF at jmccartney@redcloudnebraska.com or call: 402-746-4202.

Sponsors and donors will receive special recognition during the campaign and will receive additional accolades at the RCCF Annual Community Celebration on Nov. 18th. New this year: donors/sponsors also have the option of sponsoring a week of the campaign. Weekly sponsors will challenge others to give by matching whatever is donated during the week up to a specific amount. You can donate by sending a check to: RCCF, PO Box 263, Red Cloud, NE 68970 or donate online at www.nebcommfound.org/give/red-cloud-community-fund.
2023-24 RCCF Board members: Jarrod McCartney (Chair), Danny Benge (Vice Chair), Dennis Hansen (Treasurer), Stacie Heldt (Secretary), Ashley Armstrong, Karla Burgess, Kim Ely, Miles McDole, Ashley Olson, Adam Vetter, and John A (Jay) Yost.
Fill out this form or contact us if you want to sponsor: https://forms.gle/AbUtX5tLiD6QMknv6