Red Cloud Community Fund hoping to grant at least $10K to local organizations with September "Give Where You Live" Campaign
Red Cloud Community Fund hoping to grant at least $10K to local organizations with September "Give Where You Live" Campaign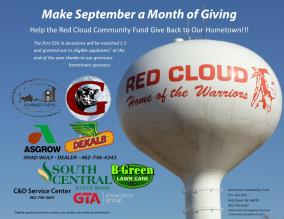 The Red Cloud Community Foundation Fund (RCCFF) is pleased to announce a "Give Where You Live" campaign that will run through the month of September.  RCCFF will be seeking to match funds raised from local businesses prior to September 1st with donations from the community. All money raised from the Give Where You Live event during the month of September will go into RCCFF's general account and will be granted back to the community. Thanks to the support of Brad Wulf/DeKalb-Asgrow Seed, Schriner Farms, Gottsch Livestock Feeders, C&D Service Center, B-Green Lawn Care, GTA Insurance Group, and South Central State Bank, RCCF has already raised $5000. During the month of September, RCCF hopes to raise an additional $5000 in matches so that they can grant $10K to worthy causes in the community starting in mid-October.
As a fund affiliated community (FAC) of the Nebraska Community Foundation (NCF), RCCFF can grant money to local governments/political subdivisions, schools, and non-profits. Eligible entities must apply for the grants. Applications can be obtained online via the visitredcloud.com website or by contacting Jarrod McCartney at jmccartney@redcloudnebraska.com or Dennis Hansen dhansen@gpcom.net.
Fallout from the COVID-19 pandemic has resulted in the cancellation of typical RCCFF fundraising events such as the annual community banquet celebration and the Alumni Weekend and Street Car Days 5Ks. The RCCFF hopes that this September event will help make up some of those losses and are even more hopeful that this will become an annual tradition that benefits the entire community and allows the organization to more swiftly respond to a broader range of community needs. If you're interested in learning more please contact a member: Ashley Olson (President), Danny Benge (Vice President), Stacie Heldt (Secretary), Dennis Hansen (Treasurer), Ashley Armstrong, Kim Ely, Kyle Klein, Jarrod McCartney, Kory McCracken, Jill Swartzendruber, Adam Vetter, John A (Jay) Yost, and Katilynn Zywiec.
Checks can be made to the Red Cloud Community Foundation Fund and sent to: RCCFF, P.O. Box 263, Red Cloud, NE 68970. You can also give online at https://www.nebcommfound.org/give/red-cloud-community-foundation-fund/. Funds that go into our general account will be used for this campaign. You can also choose to designate your donation to our unrestricted Legacy Endowment, Heritage Tourism Development, and The Valley Child Development Center via the online platform or by letting a FAC member know. At least 10% of the funds raised for this September Give Where You Live Campaign will remain in the RCCFF general account. Call Dennis Hansen at 402-746-4202, Ashley Olson at 402-746-4892, Jarrod McCartney at 402-746-4065 or Jay Yost at 917-375-1308 or any of the members listed above to learn more about how you can give back to Red Cloud.
Thanks again to the following sponsors!!!