Red Cloud Community Fund's September month of giving campaign in full swing
Red Cloud Community Fund's September month of giving campaign in full swing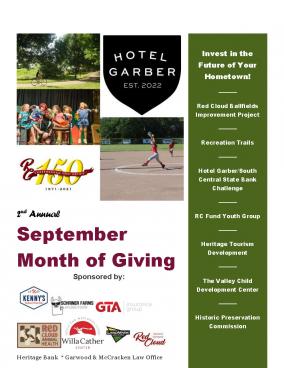 Launched in 2020, the September Month of Giving campaign affords the Red Cloud Community Fund (RCCF) the opportunity to give back to the community almost immediately. Funds raised for the campaign between Sept. 1 to Sept. 30th are granted out to local causes and organizations before the end of the calendar year. Last year, RCCF fund raised over $15K! Thanks to the generous support of donors and sponsors RCCF was able to award $2500 grants to The City of Red Cloud's Historic Preservation Commission, Cherry Corner Estates Assisted Living Center, and Webster County Senior Services and $2K grants to The Valley Child Development Center's (TVCDC) Outdoor Classroom and to RCCF's Youth Committee.

Thanks to generous sponsors and supporters, the first $10K in donations raised during the 2021 campaign will be matched dollar for dollar!

Unlike last year, RCCF has chosen this year's recipients in advance. The RC Ballfields Improvement Project would result in a new concession stand, improved bathrooms and storage space, as well as an improved crow's nest. RCCF's own Recreation & Health subcommittee is exploring options for a Recreation Trail around the community, and continues to try and build resources for community improvement projects identified by their Youth Committee. South Central State Bank has given the Hotel Garber Steering Committee a Challenge to raise $5K in local support by the end of the year which they will match. South Central State Bank will match up to a total of $25K in local support between 2020-2024.

RCCF will also accept donations during September for ongoing support of TVCDC and Heritage Tourism Development as well as the Historic Preservation Commission. Donors can also leave their funds undesignated and RCCF's board will decide where to grant undesignated funds later in 2021. Donations to RCCF are tax deductible to the full extent of the law. Under the CARES Act, in 2020 and 2021, taxpayers who do not itemize may receive a tax deduction of up to $300 ($600 for married couples filing jointly) for donations to 501(c)(3) organizations. Consult your tax advisor to see how this may apply to you.
Learn more and Fill out this Form to send your donation or donate online!