Red Cloud Creative District is recognized as an officially certified Nebraska Creative District
Red Cloud Creative District is recognized as an officially certified Nebraska Creative District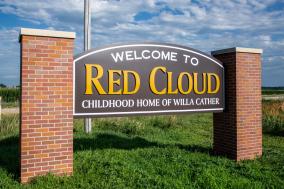 RED CLOUD--The Red Cloud Creative District was recently named a certified Nebraska Creative District and was awarded a $10,000 Nebraska Arts Council Certification Grant. The Nebraska Creative District Program utilizes the arts as an economic driver to support communities in Nebraska by telling their stories and elevating the value of the arts.
The Red Cloud Creative District Strategic Planning committee will begin exploring options for creating new wayfinding signage that will lead visitors to community attractions and will also create a multimedia marketing strategy for the district in the short-term. Long-term objectives for the district include: 1) exploring the feasibility of hiring administrative staff, 2) working with local youth to vision, curate, and create a makerspace/ongoing creative and artistic opportunities (including classes and workshops), 3) working on creating educational and immersive experiences at cultural and historic sites in the Red Cloud area, and 4) establishing an artist-in-residency program. The district is also interested in ways the Creative District can assist with downtown revitalization efforts.
In 2020, the Nebraska State legislature passed a bill to create the Creative Districts program. The program works to promote and support economic development and placemaking opportunities in communities dedicated to growing their arts-related economic sectors.
Nebraska Creative Districts must submit a letter of interest, an Eligibility Assessment, and a Strategic Plan as part of the approval process. Goals can include attracting artists and creative enterprises, encouraging business and job development, establishing the district as a tourist destination, preserving and reusing historic buildings, and promoting the district's cultural and historical heritage. As a certified Creative District, the Red Cloud Creative District is now eligible to pursue a $250,000 Development Grant from the Nebraska Arts Council.
For more information about the Creative District program, please visit the Nebraska Arts Council website at www.artscouncil.nebraska.gov/explore/creative-districts/ or call the office at 402-595-2122. The Strategic Planning Committee for the Red Cloud Creative District was assembled by Red Cloud Heritage Tourism Development and consisted of Jarrod McCartney, Liz Rasser, Brenda Knehans, Camrie Fangmeyer. Pam Livingston, Mark Dahle, Amy Springer, Ashley Olson, Rachel Olsen, Louise Olsen McCartney, Christi Lewis, and Debbie Janzen.
Contact Jarrod McCartney at 402-746-2653 or jmccartney@redcloudnebraska.com or visit the Red Cloud Creative District website to learn more.