Red Cloud to Participate in Nebraska "Community Strengths" Project
Red Cloud to Participate in Nebraska "Community Strengths" Project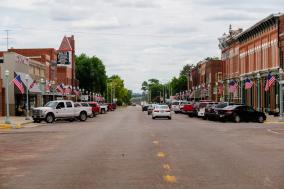 Red Cloud to Participate in Nebraska "Community Strengths" Project
Community Asks Residents, Visitors to Complete Short Survey Online
Red Cloud Heritage Tourism Development, the Willa Cather Foundation, and the Red Cloud Chamber of Commerce have agreed to participate in a statewide initiative designed to measure how well Nebraska communities measure up in nine categories known to be important to individuals seeking out new communities.
Researchers at the University of Nebraska at Kearney are working with Hollman Media, LLC of Kearney to lead the project. Red Cloud is one of 26 participating Nebraska communities.
The project agreement does not require funding from Red Cloud. Instead, the community is required to solicit a minimum number of survey responses from residents and visitors. Data from Red Cloud will then be compared to aggregate data from all participating communities across the state.
"This isn't a contest," said Travis Hollman, president of Hollman Media. "Knowing what your community is doing well and not so well is valuable to the community's strategic planning process. This survey instrument is unique in that it is based on solid research that found that people wanted nine things in any community. Some of those nine things surprised us, but they make up the nine things being measured in the participating communities."
Red Cloud is asking residents and visitors to help meet its required quota by taking the survey online at https://goo.gl/LSTA3b. Survey takers can click on the "Community Strengths Survey" link to start the survey.
The survey requires fewer than 10 minutes to complete. It does not collect personally identifiable information. Other participating communities include: Ravenna, Chadron, O'Neill, Albion, North Platte, Columbus, Scottsbluff, Ogallala, McCook, Kearney, Cairo, Seward, Central City, Sidney, West Point, Bancroft, Beemer, Wisner, Cambridge, Superior, Minden, Nebraska City, Alliance, Aurora, Holdrege, and Crawford.