Red Cloud selected as site, lineups announced for Hear Nebraska's 2017 Good Living Tour
Red Cloud selected as site, lineups announced for Hear Nebraska's 2017 Good Living Tour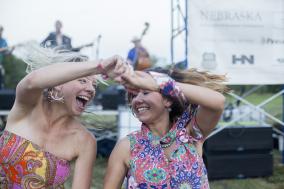 For the second year in a row, Red Cloud will be a stop on Hear Nebraska's Good Living Tour. The Starke Round Barn will once again be the site of the concert, featuring 3 bands, local and regional vendors, and a variety of fun things for young and old alike to do. Red Cloud's concert will be on Saturday, July 15th. Vendors will be available starting at 3pm while the bands will start playing aroud 5pm and play until 9pm.
Here's more from Hear Nebraska Staff:
Hear Nebraska is excited to announce the musical lineup for the 2017 Good Living Tour, presented by the Nebraska Department of Economic Development (DED). In all, 30 acts comprise a sonically diverse roster of bands, each of which will perform at free, all-ages concerts in one of eight Greater Nebraska communities: Hebron, Auburn, Imperial, Red Cloud, McCook, Norfolk, Lyons and Hastings.
Nebraska DED Director Courtney Dentlinger said a top priority is to attract talented young people that will strengthen rural communities.
"The Good Living Tour events help showcase the dynamic cultural opportunities that make Nebraska such a great place to live, work and raise a family," Dentlinger said.
Concert headliners include: Belles & Whistles (country), Lucas Kellison & the Undisco Kids (funk/soul), The Talbott Brothers (folk rock), Brad Hoshaw & the Seven Deadlies (folk/blues/rock), JAGAJA (indie pop), Kris Lager Band (blues/rock), Josh Hoyer & Soul Colossal (soul) and AZP (hip-hop/rock).
In its third year, The Good Living Tour kicks off by traveling to two new communities — Hebron and Auburn — and returns to six of its past stops. One of them is Red Cloud, where Heritage Tourism Development Director Jarrod McCartney says the Starke Round Barn concert in 2016 was a hit.
"Beyond just having a good time, there was a real sense of unity in the audience and a feeling of pride in what we were doing," McCartney said. "As soon as the concert was finished, we were all champing at the bit to get started on bringing it back to town again. The concert helped demonstrate what we're capable of here in a faraway place like Red Cloud."
This year, on the day of each concert, Hear Nebraska staff and performing artists will lead an educational workshop designed to give every community the tools and knowledge to increase the presence and support of original music in their community. Topics could include: attracting touring artists; facilitating local music production; starting a sustainable music venue or concert series; helping an existing band expand their reach; and engaging and encouraging support from the community.
Hear Nebraska Program Manager Aaron Markley is excited about advancing the tour's mission this year.
"We have a model now, in Hear Grand Island, that exemplifies what we hope the tour can lead to in communities throughout the state and the benefit it can elicit," Markley says. "This year, we will be putting significant effort into working with community members to ensure the presentation of original Nebraska music isn't a once-a-year event, but an ongoing effort that is supported and valued by every generation, but especially by Nebraska's younger population."
Click here to see the lineups in each city and some music videos from acts that will be performing