Red Cloud Tourism & Commerce launches Covid-19 Chamber Bucks Program to help local businesses
Red Cloud Tourism & Commerce launches Covid-19 Chamber Bucks Program to help local businesses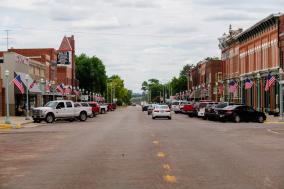 RED CLOUD, NE—Red Cloud Tourism & Commerce is pleased to announce a COVID-19 relief program to help get cash flowing through the local economy. Thanks to a generous donation from the Willa Cather Foundation and the Red Cloud Area Chamber of Commerce, consumers can now get a 50% match on any Chamber Bucks that they purchase.
Chamber Bucks work the same as cash and can be accepted by any Red Cloud or Guide Rock business. Thanks to the 50% match program, if someone purchases $100 worth of Chamber Bucks, they will receive an additional $50 in Chamber Bucks to spend at local businesses. Put another way, you can now spend $100 on Chamber Bucks to get $150 to spend at Hometown Market, Village Pharmacy, Fat Fox's, The Corner Nook, and any other local business willing to accept them. Since Chamber Bucks are only available in $10 increments, you must purchase Chamber Bucks in multiples of $20 to get the full 50% match.
With many major events being cancelled or adjusted in 2020 due to COVID-19 concerns, the Chamber officers and the Cather Foundation wanted to find a way to keep cash flowing in the community. While locals did an excellent job shopping locally during the quarantine period of the pandemic, the community is going to miss out on an infusion of dollars from outside of the community that it typically receives during the Alumni Weekend, the Cather Conference weekend, and from local tourist attractions being closed. A typical Cather Conference visitor, for instance, spent $653.18 at local businesses and lodging establishments during the 2016 Spring Conference with $422.06 of that going to non-Cather related businesses. According to Red Cloud Tourism & Commerce Director Jarrod McCartney, "since the Cather Conference typically draws in 100-200 attendees, losing the money that they spend is going to have a negative impact on local businesses. Add in losing Alumni Weekend, the Tour de Nebraska, and a nation scared to travel during the pandemic and it's quite clear that the impact on businesses that profit from tourists is going to be substantial. This Chamber Buck Give Back program will help offset some of those costs for local businesses and give locals a little more room in their own budgets."
The Chamber of Commerce cannot guarantee that a business will accept the Chamber bucks, so please check with a store (especially a bigger corporation like Dollar General) before attempting to use the Chamber Bucks. The Chamber of Commerce will be educating local businesses on how to use the Chamber Bucks that they receive. Chamber Bucks work the same as cash and local businesses need only to bring them to Adam Vetter at Heritage Bank to either get their cash equivalent or have them deposited as cash into their business account at Heritage Bank depending on the preference of the business owner. Business owners do not need to have an account at Heritage Bank to get cash from Vetter. Individuals cannot exchange their Chamber Bucks for cash—they must be spent at local businesses. Only business owners can exchange them for cash from Heritage Bank. Once $3000 is spent on this program, the program ends and no match will be given.
Contact Adam Vetter at 402-746-2251 or avettter@bankonheritage.com or Jarrod McCartney at 402-746-4065 or jmccartney@redcloudnebraska.com for more information. You can purchase your Chamber Bucks from Vetter at Heritage Bank. You can also ask any Chamber Board member (Justin Armstrong—President, Teresa Lunberry—Vice President, Kim Grams—Secretary, and Adam Vetter—Treasurer) for more information.
By early July Chamber membership packets will also be mailed out. Pay careful attention as memberships come with an additional perk this year. A Gold Level Membership ($250) will receive $100 in Chamber Bucks to spend locally, a Silver Level Membership ($100) will receive $50 to spend locally, and an individual membership ($50) will receive $20 to spend locally.