Red Cloud is working on different projects to help revitalize their Downtown
Red Cloud is working on different projects to help revitalize their Downtown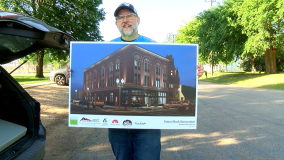 Photos and story by Risell Ventura of NTV News
The Potter Block building has been abandoned for around 30 years, now the town is working on renovating it into a brand new hotel, "The Hotel Garber".
Red Cloud attracts many tourist because of rich history, recreational activities, and because of places like the National Willa Cather Center.
"A lot of people come to the National Willa Cather Center and they end up staying in Hastings or Grand Island," said Director, Red Cloud Tourism and Commerce and chair of the Community Fund, Jarrod McCartney. "We are giving a lot of our lodging money to those communities."
The new hotel would be a 26-Room Boutique Hotel with a luxury apartment on the top floor.
READ THE FULL STORY & WATCH THE VIDEO