Springsteen, Springfield, and Brad Pitt? After pre-game buzz, Nebraska's Super Bowl role limited to front porch flag
Springsteen, Springfield, and Brad Pitt? After pre-game buzz, Nebraska's Super Bowl role limited to front porch flag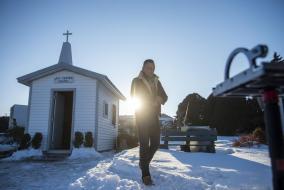 by Peter Salter of the Lincoln Journal Star
The hype hit high gear last month in Webster County.
Was that Bruce Springsteen filming a Super Bowl commercial? Or Rick Springfield?
Brad Pitt? And George Clooney?
They were at the Dollar General in Blue Hill? The bridge just south of Red Cloud? Headed down to Kansas?
Jarrod McCartney had known something was going on, but he didn't know what. Earlier in January, the Red Cloud Tourism and Commerce director had received an email from an ad agency, asking about filming in downtown and at nearby National Willa Cather Center historic sites....