Stark Round Barn Art Showcase, May 26-28th!
Stark Round Barn Art Showcase, May 26-28th!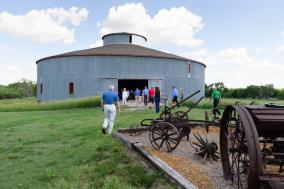 The Rasser Family is pleased to announce the inaugural Starke Round Barn Art Showcase which will take place Friday, May 26th through Sunday, May 28th at the Historic Starke Round Barn 4.5 miles east of Red Cloud. The event will feature artwork and crafts from local artists and artisans, live music, and a Sunday brunch. The event will be a highlight of Red Cloud's annual Alumni Weekend and will also be a celebration of Red Cloud's recent certification as a Creative District by the Nebraska Arts Council/State of Nebraska.
Friday's festivities will run from 5pm to 8pm. On Saturday, guests are encouraged to attend from 1pm to 4pm. Sunday (11am to 3pm) will feature a brunch prepared by the Republican Valley Arts Council with sausage, biscuits and gravy and more. A freewill donation will be accepted. All three days will feature artwork from local creatives, including Starke Round Barn owner Liz Rasser, Dr. Amy Springer, Mark Dahle, Linda Brinda, and more. Select works of art will be available for purchase. On Sunday, May 28th Heritage Tourism Development Director Jarrod McCartney will be around to answer questions anyone may have about the Creative District and its potential to help revitalize downtown Red Cloud and surrounding areas. Contact Liz Rasser at 402-746-4165 or starkeroundbarn@gmail.com with questions or for more information.